UAE Central Bank slashes overseas deposits by Dh114bn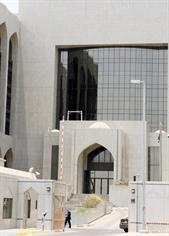 The UAE Central Bank slashed its overseas deposits by nearly Dh114 billion in the first nine months of 2008 to meet growing needs by local banks hungering for funds to keep their lending units functioning, official figures showed yesterday.

The bulk of the cut was in certificates of deposits (CDs) issued by the Bank over the previous two years to stem excess liquidity and tackle soaring inflation when the UAE economy was racing by at least 15 per cent.

From around Dh184 billion at the end of 2007, the CB's deposits with banks abroad plummeted to Dh67.1bn at the end of September, showed the figures published in the Bank's bulletin for the third quarter of 2008.

A sharp decline in CD value was the main reason for the plunge in the CB's deposits as that value tumbled from around Dh173.5bn to Dh64bn in the same period.

"The CD value should have declined further by the end of the year as most banks continued to withdraw funds from the Central Bank to offset the credit tightness caused by the global financial crisis," said an Abu Dhabi-based bank manager.

Besides withdrawal of deposits, many banks were reported to have benefited from a Dh50bn liquidity support facility announced by the Bank following the aggravation of the global crisis with the demise of the US Lehman Brothers Bank in mid-September.

Bank figures showed the country's 24 national banks and 28 foreign units used only Dh170m of that facility during September but the level jumped to more than Dh10bn at the end of November and was expected to have grown further by the end of the year.

The sharp fall in the Bank's deposits slashed its total assets by nearly Dh100bn from Dh285.9bn at the end of 2007 to Dh186bn at the end of September.

Held-to-maturity securities slipped from Dh98.8bn to Dh83.2bn while CDs under repo leaped from zero to Dh17.7bn, the report showed. CB loans to banks against CDs also soared from zero to Dh12.5bn in the same period.

On the liabilities side, current account and deposits surged from Dh37.2bn to Dh61bn while currency issued swelled from Dh31.6bn to Dh42.9bn. The plunge in the CD value depressed the CB's total liabilities by nearly Dh100bn from Dh271.9bn to Dh172.7bn in the same period.

The report showed the Bank authorised capital and general reserve remained unchanged at Dh300m and Dh1.2bn, respectively. Permanent deposit from the federal government also remained at Dh12.43bn.
Follow Emirates 24|7 on Google News.