UAE lenders' profitability will be determined by quality of assets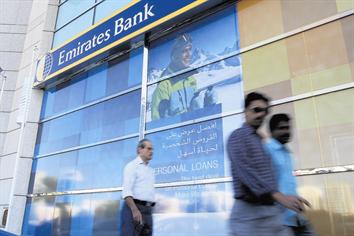 While the country's banking sector remains robust with strong financial fundamentals and adequate capitalisation, it is being buffeted by a host of negative factors as a global recession saps growth in the domestic economy.
Last month, Moody's downgraded its outlook for four UAE banks – Abu Dhabi Commercial Bank, First Gulf Bank, Dubai Islamic Bank and Dubai Bank – as a result of tightening liquidity and their exposure to the domestic real estate sector, plus a prevalence of equity-backed loans. The rating agency suggests these problems are likely to worsen and hints at further downgrades for UAE lenders. Anecdotal reports of expats fleeing the country to escape mounting personal debt suggest banks are facing significant write-downs from personal lending, although none of the banks contacted by
Emirates Business
was willing to comment.
These include Emirates NBD, Mashreq, RAK Bank, National Bank of Abu Dhabi, Abu Dhabi Commercial Bank and First Gulf Bank.
However, analysts are convinced a flood of redundancies will inevitably lead to a sharp rise in defaults. "I see defaults increasing, not necessarily in the fourth quarter of 2008 or the first quarter of 2009, but more likely from the beginning of the second quarter onwards, particularly if there are continued stories of emigration," said Raj Madha, EFG-Hermes director of equity research.
Moody's' John Tofarides offers a similarly gloomy outlook in report published yesterday, warning the UAE credit environment will be negatively affected for the next 12 to 18 months. Although the ratio of non-performing loans (NPLs) had fallen to 1.5 per cent by the end of the third quarter of 2008 as compounded loan growth increased by 37 per cent over the past four years, Tofarides warns the current loan cycle has not been tested in a decelerating economy.
"We envisage increasing NPL ratios in 2009," Tofarides said. "The extent of the potential rise in NPLs could vary significantly from bank to bank.
"In the context of plummeting oil and equity prices and concerns regarding a likely correction in property prices, all contributing to an economic slowdown in 2009, we may for the first time be witnessing a true test of asset quality."
Many UAE banks also have a high proportion of loans backed by equity shares and with the Dubai and Abu Dhabi stock exchanges losing more than half their value last year, the quality of these loans has declined dramatically. "Rapid lending expansion over the past four years has significantly tightened the liquidity profiles of banks, with negative implications for future asset growth and profitability," the Moody's report states.
In late 2007, UAE banks were flooded with liquidity as foreign 'hot money' entered the country in the expectation of a revaluation of the dirham. This saw cash deposits and equivalents soar to 19 per cent of banking assets by the end of 2007, compared to seven per cent a year earlier.
This liquidity enabled banks to go on a lending splurge, but crucially, they used short-term deposits to fund longer term loans and so when foreign funds began to rapidly withdraw their money after giving up on a currency revaluation, liquidity suddenly became tight and cash fell to around four per cent of total bank assets, Moody's estimates.
"The liquidity constraints observed the last two quarters of 2008 are expected to have severe consequences, curtailing future asset growth and profitability," the Moody's report claims.
"The tilt towards short-term funding deployed in financing longer-term assets is an inherent weakness in the system. With disrupted market funding, the liquidity practices that were used in a period of benign credit conditions are being challenged."
EFG's Madha said banks deserved little criticism for the sudden collapse in liquidity in the UAE banking sector. "The banks parked a lot of money with the UAE Central Bank, so they had the funds available. The banks also increased provisions in the expectation of a downturn.
"What they, and most others, failed to anticipate was the sudden seizing up of the credit markets. There was an outflow of foreign funds, just as the credit markets collapsed and I don't think it's reasonable to expect banks to foresee such an extraordinary situation."
These liquidity constraints will see loan growth slow to between five and 10 per cent in 2009, according to the Central Bank, and personal lending is unlikely increase until banks' fears over weak labour markets and disappearing borrowers are assuaged, EFG's Madha warns.
"Emigration depends on a lot of factors," he said. "The new-found strength of the dollar is a positive in respect to imported inflation, but it's a negative on other fronts.
"Tourism, the cost of living and pretty much everything else have increased in foreign exchange terms. In sterling terms, costs have increased by 30 per cent over the past year."
Meanwhile, Moody's warns UAE banks' financial fundamentals will weaken this year, with increasing the deterioration of asset quality as Dubai's property correction continues.
This week, Colliers International reported Dubai real estate values fell eight per cent in the fourth quarter of last year, although prices increased 58 per cent year-on-year in 2008.
"Moody's is mainly concerned about the loans to 'opportunistic' developers that have been extended over the past four to five years following Dubai's decision to allow freehold ownership for foreigners in 2003," said Tofarides.
Real estate prices will be dragged down by a host of malignant factors, Moody's warns. These include a lack of affordability and negative sentiment, plus rising funding costs and insufficient credit. The latter has become more acute with the country's mortgage industry brought to a near stand still following the suspension of Amlak Finance and Tamweel ahead of their impending merger.
Speculators bought Dubai off-plan properties in the expectation of making a quick profit, but with easy credit consigned to history and unit prices in retreat, these buyers are now facing negative equity and there are increasing reports of buyers returning properties to the developers. The latter will then have to re-sell these units to repay banks and fund their projects.
"Given that the buying interest for new properties is curtailed, developers will be faced with stressed liquidity, significantly increasing their risk of default," the Moody's report states.
Madha believes the stresses in the UAE banking sector and wider economy could be soothed by more robust regulation and greater transparency in real estate.
"Unfortunately, some recent laws introduced by Rera seem to protect developers from investors, rather than the other way round," said Madha.
Central bank may have to provide more support

The UAE Central Bank may be forced to provide domestic lenders with further support in the medium term, Moody's warns.
In September 2008, the Central Bank created a Dh50 billion emergency credit facility for domestic lenders to ease liquidity constraints and this was followed in October by a Dh70bn direct cash injection into banks.
The credit facility remains largely ignored, with banks complaining it is too expensive, but the cash injection has been readily exploited.
The latter was divided into three tranches, with the first two already fully taken up by banks, while the third will be available from mid-year, said EFG-Hermes' Raj Madha.
UAE lenders have used this money to correct their loan to deposit ratios, which were becoming stretched. "In the short term, the government support is sufficient to address the liquidity constraints," a Moody's reports claims.
"However, in the medium term, we remain cautious as the vast loan commitments and maturing debt may necessitate further support. The banks are fully conscious of the liquidity scarcity in the market and will take decisive steps to alleviate the problem, but this would be at the cost of future asset growth and rising borrowing expenses."
Follow Emirates 24|7 on Google News.
UAE banks' profitability this year will be determined by liquidity constraints and the performance of personal and property-related lending, analysts predict.