UBS chairman Kurer makes way for Villiger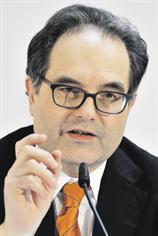 UBS Chairman Peter Kurer will not stand for re-election, and the board will nominate Kaspar Villiger, a former Swiss finance minister, as a replacement, the Swiss bank said yesterday.

Kurer's departure comes after just under a year in the job, during which time UBS shares lost 68 per cent of their value, the bank wrote down more toxic assets than any other in Europe and became embroiled in a US tax probe that threatens to undermine Swiss banking secrecy.

UBS, the world's largest wealth manager in terms of assets, last week announced former Credit Suisse head Oswald Gruebel would replace Marcel Rohner as chief executive.

"That is a step in the right direction," a trader said.

"With Kurer's departure, that is the last one of those responsible who is connected to the one-time clique of (former chairman) Marcel Ospel and the financial crisis." Villiger "brings substantial experience as a businessman and as a member of boards of multinational corporations", Gabrielle Kaufmann-Kohler, chairman of the governance and nominating committee of the board, said.

The 68-year-old Villiger was born in central Switzerland and was a member of Switzerland's governing Federal Council for 15 years, serving in the largely ceremonial role of president twice. Villiger was finance minister when UBS was formed through the merger of UBS Union Bank of Switzerland and Swiss Bank Corporation (SBC).

He is a member of the boards of the world's largest food group Nestlé and reinsurer Swiss Re and will resign all other corporate positions if elected chairman, the Switzerland-based bank UBS said.
Follow Emirates 24|7 on Google News.