UBS posts pre-tax profit of $2.3bn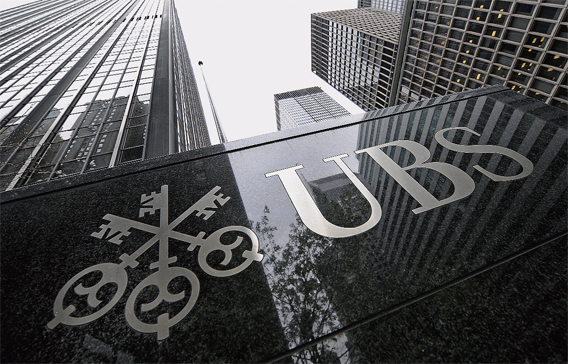 UBS delivered its highest pre-tax profit since the start of the credit crisis ahead of a likely tense shareholder meeting and said withdrawals were substantially lower at all divisions.
In an unscheduled announcement, the Swiss banking group said first-quarter pre-tax profit was "at least" SFr2.5 billion ($2.3bn, Dh8.4bn), nearly three times bigger than the previous quarter and most likely driven by exceptionally high fixed-income revenue.
UBS also said that money withdrawals by rich clients, disappointed with the bank's handling of the financial crisis and US tax woes, had shrank to a third of what they were in the previous quarter as the bank tries to rebuild its image.
"Net new money outflows in all businesses were substantially lower than in fourth quarter 2009," UBS, the world's second-largest wealth manager in terms of assets, said.
The surprise statement came ahead of what is expected to be a turbulent shareholder meeting for Chief Executive Oswald Gruebel tomorrow, as some activist investors prepare to reject a UBS bonus system and plans to clear management of responsibilities for the crisis.
UBS' first-quarter pre-tax profit would be above a mean estimate of five analysts of SFr2.375bn, according to ThomsonOne data.
UBS said on March 30 that revenue at its fixed-income division would be $2.3bn (Dh8.4bn), triggering a three per cent rally in its shares.
"This short interim statement points to the question of whether the glass is now half empty or half full," analysts at bank Wegelin said in their morning report.
"The return to profit is welcome and the weakening of outflows is encouraging. But how sustainable is the earnings development and when will client withdrawals stop?" Gruebel, a former Credit Suisse CEO who was pulled out of retirement in February to turn around UBS, has promised investors that the bank will deliver annual pretax profit of SFr15bn in the mid-term. "The situation at UBS is improving," said a Zurich-based trader.
"Pre-tax profit of SFr2.5bn is pleasing. But the bank is still losing client money. Shares should, however, rise," said the trader.
UBS said that it estimated net outflows to be around SFr8bn at its main Wealth Management and Swiss Bank division.
The bank said withdrawals at the Wealth Management Americas division would be SFr7bn and that it saw withdrawals of SFr3bn in Global Asset Management.
Total outflows would be only a third of the around SFr56bn the bank bled in the final quarter of 2009.
The bank is due to report full first-quarter figures on May 4.
Follow Emirates 24|7 on Google News.