US bank closures hit 20 so far this year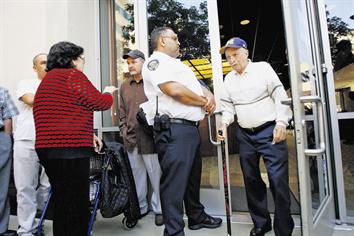 Regulators seized four more US banks, bringing the total for the year to 20.

The Federal Deposit Insurance Corp (FDIC), in charge of safeguarding bank deposits and resolving failed banks, has predicted that 2010 will be peak year for failures resulting from the recent financial crisis.

It has warned that the banking industry's recovery will lag the overall economy as institutions continue to cope with deteriorating loans, many originated during the credit boom that ended when the housing bubble burst.

The FDIC said on Friday that regulators had closed four banks: the George Washington Savings Bank in Illinois, La Jolla Bank in California, La Coste National Bank in Texas and Marco Community Bank of Marco Island, Florida.

As of December 31, La Jolla Bank, FSB, which had 10 branches, had about $3.6 billion (Dh13.2bn) in assets and $2.8bn in deposits. Its deposits are being assumed by OneWest Bank, FSB.

George Washington Savings Bank, which had four branches, had approximately $412.8m in assets and $397.0m in deposits. Its deposits will be assumed by FirstMerit Bank National Association in Ohio.

La Coste National Bank had approximately $53.9m in assets and $49.3m in deposits. Its single branch will reopen as part of Community National Bank in Texas.

Marco Community Bank had about $119.6m in assets and $117.1m in total deposits.

The FDIC's insurance fund balance is in the red, but the agency has said it has plenty of cash on hand to deal with failures and protect deposits. It also has the potential to tap its $500bn line of credit with Treasury.

The agency is scheduled to give an update on its view of the banking industry when it holds a quarterly briefing on Tuesday.

It will reveal industry earnings for the fourth quarter of 2009, as well as provide an updated figure of the number of banks on its problem list. As of the end of the third quarter, 552 banks were on the list. The FDIC has said the majority of banks on that list do not fail.

Last year, 140 banks failed, compared to 25 in 2008 and only three in 2007.


Government takes direct stake in Bank of Ireland

Bank of Ireland said it will transfer nearly 200 million ordinary shares to the Irish Government, in lieu of a payment of €250 million (Dh1.25 billion] that was due.

The transfer tomorrow to Ireland's National Pensions Reserves Fund will give the government a 15.73 per cent share of issued ordinary stock – its first direct stake, in addition to Ireland's 25 per cent indirect stake via warrants and preference shares.

The European Commission had told the bank and rival Allied Irish Banks to stop paying dividends on shares and interest on some debt pending a verdict on their restructuring plans for state aid.
Keep up with the latest business news from the region with the Emirates Business 24|7 daily newsletter. To subscribe to the newsletter, please click here.
Follow Emirates 24|7 on Google News.