Adib to provide Dh1.4bn to Al Habtoor for Zayed University project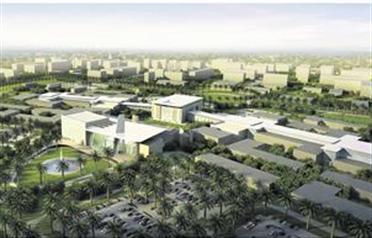 The Abu Dhabi Islamic Bank (Adib) yesterday said it will provide a finance facility of Dh1.45 billion to Al Habtoor Engineering Enterprises in what analysts believe signals a revival of credit in the region.

The financing is for a joint venture between Al Habtoor Engineering and Murray and Roberts Contractors to support the development and expansion of the Zayed University campus in Abu Dhabi.

"At Abu Dhabi Islamic Bank, similar transactions will follow this year," Ibrahim Abdullah Al Sane, ADIB's Head of Corporate Wholesale, told Emirates Business. "There is a lot of competition in the banking sector when it comes to gaining business."

The deal indicates the beginning of a restoration of confidence, analysts said.

"The deal of such a quantum may very well indicate restoration of confidence in the system. Banks have emerged as much more careful due to the ongoing global situation. So far, many of them were hesitating about getting into large deals. This agreement indicates that after considering the risk factors, they are making efforts on the financing front," said Binu George Olassa, a research analyst with Dun and Bradstreet.

Adib officials said risk parameters were assessed before getting into the agreement. "For any deal to go through, it has to pass our risk assessment parameters," said Al Sane.

He said the key drivers that led to the bank getting the deal were "prudent risk management, a strong balance sheet, investment in Shariah-compliant structures and strategic marketing".

Al Sane said there is no real slowdown in bank financing for good firms. "In general, we have witnessed that in any transaction we are involved in, other banks too are competing aggressively," he said.

"Adib will provide us with a set of facilities such as guarantees, bonds and other facilities that we need for the Zayed University project," said David Savage, Managing Director, Al Habtoor Leighton Group.

"We always need facilities and support from the bank. The rates are very reasonable and it is a reflection of the relationship between us and the bank."

He said Mubadala would arrange the rest of the funding for the project.

"We have started work on site and the facilities will ready for the students at the start of the academic year in 2011," Savage told Emirates Business.

He said Al Habtoor Leighton sees Abu Dhabi as a key market.

The contractor will is not considering taking an equity stake in projects in lieu of payment during the current liquidity crunch, he emphasised.

"We are a contractor first and foremost and that is where we intend to focus. Development risk is a different risk and we do not see ourselves getting into such deals in the foreseeable future."


Dh3bn university contract

The Al Habtoor-Murray and Roberts joint venture was awarded the Dh3-billion contract for the design and construction of the new Zayed University campus in Abu Dhabi for Mubadala Development Company. The Al Habtoor Leighton Group's share is Dh1.5 billion.

The project involves the design and construction of a new university campus on a plot of approximately 75 hectares and a built-up area of 200,000 square metres to provide educational facilities for 6,000 students as well as related faculty and support staff. The new campus will be located in New Khalifa City, near Abu Dhabi International Airport, and will be part of the Capital District.

The Capital District concentrates the government, academic and knowledge-based sectors, accommodating departmental offices and embassies, as well as national health and educational institutions. Work on the project will commence immediately, and will be completed in July 2011. This is Al Habtoor–Murray and Roberts' second university project for Mubadala after the venture secured the Paris Sorbonne University in May last year.
Follow Emirates 24|7 on Google News.