BoA sells China bank stake for $2.83 billion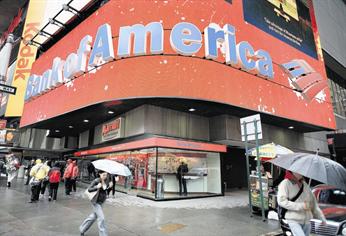 Top US lender, Bank of America, raising cash to weather a dismal market at home, sold a $2.83 billion (Dh10.4bn) chunk of its holding in China Construction Bank yesterday, dragging the Chinese bank's stock six per cent lower.

China's three largest banks attracted big strategic investments from western financial giants at the time of their initial public offerings. Those investors are now under pressure to shed their stakes as the global financial crisis ravages the banking industry, and further sales are expected.

Bank of America sold more than 5.62 billion shares, or nearly 13 per cent of its holding in Construction Bank, at HK$3.92 apiece, according to a term sheet obtained by Reuters and a person familiar with the matter, in a deal that had been widely anticipated by the market.

"The news has been expected but investors will still take it hard because BoA will most definitely sell more. They need the money," said Francis Lun, General Manager with Fulbright Securities in Hong Kong.

Bank of America realises a profit of about $1.13bn on the stake sale, based on Construction Bank's IPO price. It sold the stake at a 12 per cent discount to the stock's Tuesday close. Bank of America had planned and then cancelled a similar sale last month, sources familiar with the situation said.

The stake sold represents about 2.5 per cent in Construction Bank, and will leave Bank of America with a 16.6 per cent holding in the Beijing-controlled lender.

Bank of America bought its initial stake in Construction Bank ahead of the mainland lender's 2005 IPO and built its holding up to just over 19 per cent.

Given the high barriers to foreign entry to China's fast-growing financial industry, overseas institutions are reluctant to relinquish any of their hard-won access.

On the other hand, earnings growth is slowing at mainland lenders as the economy cools amid the global downturn.

Warren Blight, analyst at Fox-Pitt Kelton in Hong Kong, said Bank of America may look to sell a further stake but does not expect a complete sell-down.

"Even putting lockups aside on the later holdings, I think they want to maintain a close relationship with CCB," he said.

Speculation that the US bank would look to trim its stake has been rife since a three-year lock-up on the initial chunk expired.

In another Chinese sell down by a western bank, Switzerland's embattled UBS recently unloaded its holding in Bank of China.

Citigroup said Bank of China may see further stake sales this year by Royal Bank of Scotland, which holds 8.3 per cent, and Singapore state investment agency Temasek Holdings, which owns 4.1 per cent. Lockups on those stakes lapsed in December, it said.

Industrial and Commercial Bank of China could also come under stake sale pressure this year.
Follow Emirates 24|7 on Google News.