Daman floats Dh200m fund with an eye on GCC recovery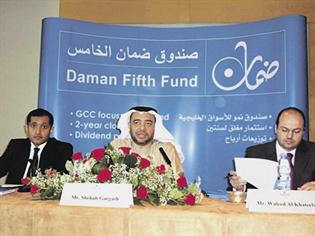 Daman Investments, a UAE-based investment management company, yesterday opened the initial offering for its Dh200 million Daman Fifth Fund to invest in GCC markets, hoping recovery over the coming two years.

The fund, registered and regulated by the UAE Central Bank, will focus on blue-chip equities in the regional financial markets as well as debt products and commodities, according to Shehab Gargash, Daman's Managing Director. "The Fund is an opportunity fund that capitalises on the upcoming GCC market recovery to achieve capital appreciation over the medium term and targets and internal rate of return of 25 per cent annually."

"The fund has a two-year life, which is extendable by an additional two years depending on Daman's decision to extend it or not," Gergash said explaining that if the fund achieved it targets during the coming two years the company may not extend its life.

He said Daman launched this fund during the current downturn in the markets because the company had strong expectations of a recovery in the markets that might lead to strong appreciation of stocks. "Regional markets always overreact during ups and downs so the coming recovery will give very positive returns."

Shehzad Janab, Head of Asset Management in Daman, said the fund would target GCC markets because "the markets are currently trading at forward estimated valuation multiples of 10.2X for year-end 2010 earnings estimates, which are at a discount when compared to the historic P/E average range of 18X for the past five years."

Gargash sees differences in the performance of regional markets from geographical and sectoral levels and this would benefit their investments as the management would focus on the markets and sectors that showed signs of recovery.

"There are weak signs of recovery – despite regional markets facing hardships – and we want to benefit from this trend. Saudi and Qatari stocks are showing strong signs of uptrend. The telecom sector in general has strong potential."

Gargash said the fund would invest in UAE markets on selected stocks. "The UAE stock markets need liquidity to recover as investors are taking wait and see strategy. This was the situation when we launched our Daman UAE Value Fund in 2001, which gave an impressive return of 273 per cent."

He said the average daily turnover in both Dubai Financial Market and Abu Dhabi Securities Exchange reached around Dh1 billion last year when the financial crisis was at its peak.

"The average daily turnover year to date is around Dh500 million which is very low. The current liquidity in the UAE does not reflect strong fundamentals of the country," he said.
Keep up with the latest business news from the region with the Emirates Business 24|7 daily newsletter. To subscribe to the newsletter, please click here.
Follow Emirates 24|7 on Google News.