Eibor eases to 3.10 per cent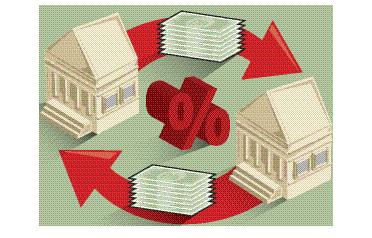 However, the liquidity is "trapped", according to a senior economist and does not percolate into the real economy.
"Banks are putting their money in the interbank market, driving the interbank rates down. Hence, a lower Eibor is not necessarily a sign that things have improved. It is a sign that liquidity is there but it is trapped," said Marios Maratheftis, Regional Head of Research at Standard Chartered bank.
"One of the solutions is to inject additional liquidity so that banks do not need to compete for deposits and liquidity also eases."
In spite of the reduction, a wide gap remains between the repurchase rate set by the UAE Central bank and the Eibor.
Financial analysts say the "still high" interbank rate reflects a shortage of money in the system and an additional injection would help bring it down and facilitate easing of liquidity.
"The Eibor should be lower. Its marginal easing is a result of injection of liquidity in the system. The government should inject more liquidity in the system," a banking analyst said.
The interbank rate was 4.20 per cent at the beginning of January. It came down to 3.83 per cent when the Central Bank slashed the repo rate on January 19 to 1.00 per cent from 1.5 per cent.
The Central Bank has responded to the fallout of the global financial crisis by slashing its benchmark repurchase rate by 0.5 per cent to 1.5 per cent in the first week of October 2008. Eibor, which was lower than the repo rate in 2007, reflecting excessive liquidity, touched a high of 4.7 per cent in November last year when the repo rate was 1.5 per cent.
It eased after the UAE Central Bank said it would allow dollar-dirham swaps in the last week of December 2008.
Follow Emirates 24|7 on Google News.
The Emirates interbank offered rate, or Eibor, has eased to 3.10 per cent from 4.20 per cent at the start of the year as liquidity within the banking system has increased, bankers said.