Putting DIFC in the frame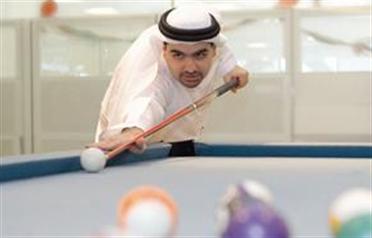 The pool table on the 14th floor of Dubai International Financial Centre has not seen much action recently.

Once, staff would look forward to lunch breaks when they would gather for a brief competition around the grey-baize table. Even DIFC Governor Dr Omar Bin Sulaiman would join in. Not any more.

"There's simply not enough time," said Managing Director Abdulla Awar. Indeed, since he took up the post at the DIFC Authority in April, much has changed.

"We used to play quite a lot, but about six months ago it started to slow down."

Things got tougher for Awar as the global financial crisis took hold in the region. His job, to sell the DIFC to the world and attract companies to the building, required a salesman's renewed determination.

His previous work in the UAE, as Head of Regional Sales at Dubai Internet City (DIC) and Knowledge Village, was undertaken during the salad days of a booming Gulf. "I haven't faced more difficult challenges than I face right now, especially in this current economic climate," said the 29-year-old.

He has also had to face a world that has become familiar with the Dubai dream and is increasingly asking to understand more about the truth underlying investment opportunities.

"My job – to convince people to come here – is at the moment difficult but possible. The challenge is that historically there was an over-dependency on the competencies that Dubai already possessed – infrastructure, tourism, location and so on.

"Now, the challenge will be to showcase the opportunities that are there for investments. Nothing changes fundamentally in either scenario but earlier there was a higher degree of dependency on the reputation."

His career path has been quite typical of successful nationals. He grew up in Dubai and left the country for higher education in the United States, where he graduated from the University of Colorado, Boulder, majoring in information systems. His jobs since have essentially involved convincing people to set up shop in Dubai. At DIC, he was responsible for managing commercial accounts.

He joined at the beginning of what is known today as Dubai Holding.

"I took a more commercial role – rather than a technical one – as it exposed me to decision-makers," said Awar.

"I'm glad I made the right decisions. I was 21 years old, I came back to Dubai and I was meeting CEOs from leading IT companies.

"I still remember my first interview at DIC. The whole session was not based on any of my qualifications, experience, or the projects I'd worked on. It was mainly about my lifestyle – what I did in the US, how many friends I had, and so on.

"From this point, I learned that being successful in a job requires something that is very difficult to excel at, and only a few people can possess these skills – managing relationships in a positive way and making others comfortable to deal with you and share their concerns."

Colorado signalled a break from the tradition he was used to in the UAE – dependency. He said: "The lesson I took from Colorado was self-dependence. When at school in Dubai, I did not see the challenge of being responsible for myself."

Being a student in the States also taught him that money can run out.

"I recall the days when my friends and I were on so tight a budget that we used to ration consumables so that they lasted until the next payday. We learned to manage our finances."

He now works among a young generation of nationals that in the past six years has witnessed the rapid growth of some of Dubai's now well-established institutions. His boss, Dr Bin Sulaiman, took a similar trajectory to his governorship of the DIFC. Bin Sulaiman started at DIC in 2002 and, in a short time, became the CEO. He was then tasked by His Highness Sheikh Mohammed bin Rashid Al Maktoum, Vice-President and Prime Minister of the UAE and Ruler of Dubai, with arguably the most challenging role at the DIFC.

"Dr Bin Sulaiman is an excellent role model," said Awar. "He is young but has proved that he can take up a challenge in this rapidly changing environment."

Away from the office, Awar can be seen cycling around Jumeirah 1, near his home. It is a hobby he started as a reaction to his complete dislike of running.

"I picked up cycling very recently. I used to live in the Al Murooj complex, so it wasn't convenient for bike-riding. But I moved to Jumeirah last year and I can cycle on the weekends throughout the neighbourhood now.

"I'm not a jogging person, so cycling is a good alternative. I also play sports like football and I like swimming and shooting."

And, obviously, pool.

He lives with his wife and their young son.

Speaking about the large Awar family that has been supportive during his rise, he said their quirkiness went a long way to inspiring his management style.
"Most of my family members are extroverts. I wouldn't say that we like to talk, but we definitely like to be with people and develop relationships."
It is clear that as an only son, with three older sisters, the pressure to out-perform always bubbled beneath the surface. He spoke with joy about his own son and says he will leave the door open for him to follow in his footsteps to a US education.

"I would leave the option open for my son to choose whether he wants to go away for education. But I would encourage him, like my parents did, to become self-dependent."

This philosophy brings out a very practical stance on what he spends his money on today.
Even though he lives and works in a city of excesses, he said he was not a big spender.
"Before I make a decision to buy something, I will think about the value that it can provide me, not just in the short term.

"That goes for anything, be it a household item, a car or an investment.

"I used to be different in my college days. I thought more just about the moment. Now I believe in spending if there is a long-term benefit," he said.

He admitted he enjoys getting away once in a while from the hub-bub of Dubai – the traffic, the noise and the dust. After all, those wanting to pinpoint the financial heart of the emirate, and the hustle and bustle that goes with it, would have to look no further than his office and the hundreds that surround it at DIFC.

"In the winter, my friends and I often go to Al Khawaneej and sit out on the dunes and light a bonfire for the evening. It's nice because once in a while you need to get out of the city life.

"We also go to Hatta and stay on one of my friend's farm. I also spend time with my friends, going to places like Mercato mall, which is very convenient for me.
"We also go to movies there. The mall is not that busy and you can at least get a parking spot," he said with a smile.
And what's next for him professionally and personally? He leans back, clasps his hands behind his head and takes a deep breath. "There's so much…" It seems for a brief moment he glimpsed his ambition, and maybe surprised himself.

One goal that sticks out is his desire to eventually head a family business, or lead his father's business.

Another of his aims seems apt, given the drive it's taken to reach his current pinnacle: "I want to travel to space. Maybe one day I could take Virgin Galactic, but not under the current prices. I wonder what it would be like to see Earth from space."


BIO

Awar joined the DIFC Authority in late 2004 as a Business Development Manager.

He was charged with creating a cluster of non-financial businesses, which involved attracting law firms, consultancies accountancy firms and other professional service providers. He was quickly promoted to Director of Professional Service Providers, and then nominated as Deputy Managing Director. In April last year, he became Managing Director of the DIFC Authority. Prior to all this, Awar acted as Regional Sales Manager at Dubai Internet City and Knowledge Village Prospects.

He was resonsible for managing commerciall accounts and convincing ICT companies to establish themselves at the emerging cluster cities.
Follow Emirates 24|7 on Google News.