Noor Takaful brand targets 5% regional market share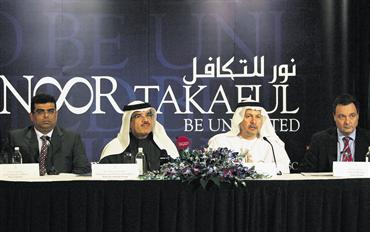 Noor Takaful brand aims to notch up five per cent market share of the Gulf 's insurance industry within five years, a senior company executive said yesterday.

The new brand was launched yesterday by Noor Islamic Bank with a capital of Dh75 million each.

Noor Takaful Family and Noor Takaful General, the two insurance companies launched by the group, would initially operate from Abu Dhabi, Dubai and Sharjah and later expand to the Mena region.

Noor Takaful General will offer cover for the property, engineering, energy, construction, marine and automobile industries while Noor Takaful Family will offer health and family products.

Parvaiz Siddiq, CEO of Noor Takaful, said he is not only expecting to gain from the untapped insurance market, that is less than two per cent of the GDP in this region, there was also a likely shift of customers from conventional insurance to takaful, a Shariah-compliant insurance, that would add up to their base.

"Takaful market is growing faster than conventional insurance. There is a slowdown but that is unlikely to impact the growth of this segment. We are expecting insurance also to follow the pattern that banking has with a lot of people shifting from conventional banking to Islamic banking. The demand for Shariah-compliant products is on the rise," he told Emirates Business.

While the initial phase would witness launch of standard bouquet of Islamic insurance products, the second phase would see introduction of products specific to investments and savings, said company officials.

In spite of a large number of companies offering insurance products in this region, the prospects for Islamic insurance are bright. "The number of Islamic insurance companies is very small in comparison to conventional insurance that are more than 50 in number. In fact the more that companies, the better would it be for the market," said Dr Ahmed Al Janahi, Deputy Group CEO of Noor Investment Group.

"Medium to long term prospects for takaful remain high," he added.

Talking on growth prospects, Siddiq said the UAE insurance market grew by 41 per cent in 2007 while the growth of Takaful in that year was almost 70 per cent.

"Even if there is an impact of the ongoing recession, growth would continue."

The newly set up entity aims to position itself as a leading global player in the takaful industry.

"The launch and development of a world class portfolio of takaful products and services mark our entry into a thriving sector within Islamic finance. By embracing a customer centric business model, we are confident that Noor Takaful will position itself as the region's leading Islamic finance institution, in both size and stature, and will raise the bar on international best practices in the industry," said Group CEO of Noor Investment Group, Hussain Al Qemzi. He said the move was in line with the company's strategy to capitalise on the flourishing GCC Islamic Insurance sector which ash been anticipated to grow at 20-25 per cent annually.

The $170m Gulf Islamic insurance market will expand almost 25-fold to $4.2bn by 2015 as customers buy cover compliant with Muslim rules for the first time, Standard & Poor's said in a report. The global Islamic insurance industry is estimated at $2bn.


No to stocks

Investments in stock markets and other risky products would be a definite no for Noor Takaful, said Hussain Al Qemzi, Group CEO, Noor Investment Group.

"If you ask whether we would be investing in stock exchange or risky products, the answer is no," he said, while adding that the decision to stay away from stock markets, that have seen sharp decline in last few months, was a "prudent approach for any insurance company."

Plunging stock markets have been causing worries to many insurance companies that are reviewing their strategies.
Follow Emirates 24|7 on Google News.