Credit and equities to outperform other investments in 2009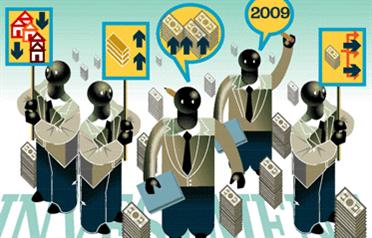 Investors reviewing their options for 2009 after a very difficult year should avoid putting their cash into anything adventurous, say analysts.

The key issue should be the safety of assets and funds. Experts told Emirates Business that they favoured credit and equities – but said property should be avoided.

"Property will be a bad investment globally for the next few years, especially in areas that saw the greatest rises in the past five years," said Thomas Connolly, Managing Director and Head of Asset Management, Middle East and North Africa, at the Bank of New York Mellon.

"US Treasuries will also perform very poorly in 2009 because they are at historically expensive valuations currently and could be impacted negatively by inflation or a decline in the US dollar.

"On the other hand the inverse of Treasuries from a valuation perspective is credit. I think investment-grade and high-yield credit are both priced currently for a negative economic picture going forward that is extremely unlikely to occur.

"I think credit will significantly outperform most other investment areas in 2009. Credit represents the best risk reward currently."

MR Raghu, Senior Vice-President, Research, at the Kuwait Financial Centre (Markaz) believes equities look solidly attractive. "With valuation levels at a price/earnings ratio of six to seven, the downside is small and the upside is significant. I see two possible scenarios for 2009 as far as equities are concerned. Either there will be a sideways market with high volatility or there will be a grand revival with significant upside.

"Gold does not appear to be a bad choice given its high correlation to oil. From here, oil prices will find it difficult to move downwards given the supply side pressures from production cuts as well as geopolitical risks. While demand may not pick up soon because of the global recession, I feel supply has been constrained a lot to compensate for that. Hence, I feel gold will perform better along with oil."

Like Connolly, Raghu does not recommend property for 2009 – though he has a different view on the prospects for Treasuries. "Property is a clear no in light of the tight liquidity scenario," he added.

"Property survives only in a leveraged environment. It may be at least two to three years before normality returns to the long-term funding market.

"Treasuries, the best performing asset class during the last few years, may be attractive. Remember, when interest rates fall bond prices increase and hence one can realise capital gains."

Connolly advised small investors with a notional portfolio of $1 million (Dh3.67m) to go for cash and credit.

"I would currently overweight my investments in cash and credit, although I would also allocate significant amounts to equities," he said. "I would favour global and emerging market equities slightly over US equities currently. I would have a zero allocation of property and gold. I would also be underweight on industrial commodities and overweight on agricultural commodities and oil.

"However it all depends on your risk tolerance levels and investment time horizon."

Raghu said the notional investor should invest 50 per cent in equities, 30 per cent in Treasuries, 10 per cent in commodities – with a tilt towards gold – and 10 per cent in sukuks.

"The equities could be divided into 50 per cent US, 20 per cent Europe, Asia and Far East and 30 per cent Middle East and North Africa, with a tilt towards the GCC."

Nigel Watson, Sales and Marketing Director at Nexus Insurance Brokers, said cash and diversification should be the rule when it came to investment.

"In these turbulent times the thing to do is to safeguard the money you have as far as it is possible for you to do so. To do this, diversification is the key so do not leave all your savings in one asset.

"Regular reviews of your assets and savings are essential. Meeting an independent financial advisor regularly can be of great value as they can provide a financial health check to ensure you are on course to achieve your financial goals.

"In addition, having the discipline that a financial advisor can provide by meeting you regularly to review your investment portfolio can be of immense value."

Watson said money should be put into property if the investor took a long-term view. "Property has historically provided a good form of investment. However, this is viewed as a long-term investment and should you ever have to liquidate this asset you need to hope that property is at its peak and not in the doldrums waiting for a recovery."

Watson said hard cash was very important in today's world and should form an integral part of any portfolio. "Remember to retain some liquidity in your investment portfolio for emergencies when you need access to cash or are faced with a new investment opportunity that you would like to buy into. A suggestion that you keep some five to 10 per cent of your portfolio liquid is a useful guide.

"Remember to practice caution. All investment decisions carry an element of risk and advice from an independent financial adviser can help to provide that the decisions you are making are in line with your own attitude to risk."

Madinane Manqoba, an analyst at Standard Bank said gold was a safe investment option. "I'm convinced that, given the current macroeconomic signals, gold should garner strong support at least in the short to medium-term," he said.

"The reasons behind my positive take on gold are, firstly, these is a risk of global deflation, secondly, hedge-fund deleveraging has begun to ease, and thirdly, the geopolitical risk premium arising from increased tension in the Middle East should continue to anchor short-term gold prices even though financial market systemic risks have retreated slightly.

"The MSCI global hedge fund investment index is bottoming out. Therefore fund outflows from the gold market, due to forced liquidations, are likely to have an increasingly benign effect on gold prices.

"It is difficult to determine at the moment whether these outflows will return to gold. However, the balance of probabilities is
likely to favour increased tactical investment fund inflows back into commodities given the poor performance of the other asset classes."
Follow Emirates 24|7 on Google News.