Daman CEO predicts FIIs will soon return as confidence grows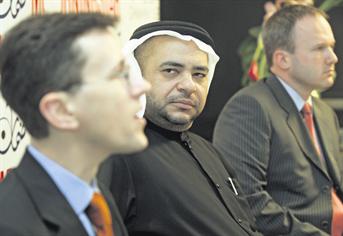 Foreign Institutional Investors would not take long to return to the UAE, which has established itself as one of the primary investment destinations in the world, Shehab M Gargash, Chief Executive Officer of Daman Investments, told Emirates Business yesterday.

After having taken a hit in the second half last year, 2009 would be "year of regaining confidence whether it is large institutions or small investors" in the country, he said.

Resolute actions from the government and from various segments of the economy would help regain confidence and measures such as creating a fund to invest in local markets would be positive, but "it is not the only solution; it's one of the several steps to the solution".

The role of institutional investors in the near future would reduce because there is less money to be invested and less opportunity but it is only a short-term issue.

"Institutional money is going to come back to the UAE as it has established itself as one of the strong destinations. That FIIs left the UAE as it was a global economic crisis; but going forward this money would soon come back," Gargash said.

He said this did not mean that measures to attract FIIs should not be taken. "We should always take measures to attract them but these should be well-studied and significant for the UAE market. We are not looking at migrant money, we are looking at money that adds value to the economy."

Resolute actions from various segments including the government and sectors like banking would help restore confidence in the economy.

"The immediate step is to return to normalcy, the banks should operate normally; they have to begin lending again and increase their exposure to the markets. If sectors like banking and real estate return to normalcy, confidence would be restored."

While he agreed the last half of 2008 had been a low phase for the economy, Gargash said 2009 is a "year of regaining confidence be it is big institutions or small individual investors".

The year offers varied challenges when financial institutions would have to face the challenge of their ability to attract investors. An increased activity in primary markets would be a positive step.

"We have not heard of it for quite some time, but return of primary market IPOs I think would be a positive step," he said.

Amid all the challenges, consolidations in banking and real estate too are likely, he added.

Regarding brokerage firms going through a tough time, he said there would be lesser brokering firms in coming days.

Daman OPTS for Morningstar
Daman Securities, the brokerage arm of Daman Investments, has joined hands with the US-based independent investment research firm Morningstar to provide Daman and its clients an international perspective and in-depth coverage for the UAE markets.

The research would offer a fresh, impartial outlook on the fast-moving, rapidly evolving, and increasingly more sophisticated UAE markets, now widely recognised as a strategically located, emerging global marketplace.

Since their establishment in 2000, the market capitalisation of UAE markets has risen from $8.67bn at inception to the current $105.93bn as of December 21, 2008, achieving a compounded annual growth rate of 36.76 per cent per annum.

Morningstar will initially start with six Dubai stocks to expand to 27 soon. The stocks, added Dorsey, would be selected from a broad range of sectors.
Follow Emirates 24|7 on Google News.