Ipic teams up with Greek shipping group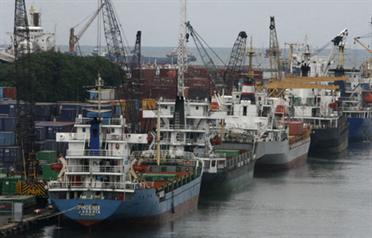 Restis Group, Greece's fifth-largest shipping company, will team up with Abu Dhabi's International Petroleum Investment Company to jointly invest in shipping, energy and transport.

The two companies will create a joint venture with an initial investment of $1.5 billion (Dh5.5bn), Athens-based Restis Group said in an e-mailed statement. The two companies yesterday signed a memorandum of understanding to co-operate in a number of areas, including storage, ship-building, pipelines and ports.

"Through acquisitions and strategic holdings the new consortium aims at creating the first vertically-integrated group that will be active not only in oil extraction and refining but in its transportation," Ipic's Managing Director Khadem A Al Qubaisi said in the statement.

IPIC, as the fund is known, is owned by the government of Abu Dhabi, and has an investment portfolio currently estimated at more than $14bn, according to its website. The closely- held Restis Group, based in Athens, will manage the new company, according to the statement, with a base being created in Abu Dhabi.

Meanwhile in Spain, lender Santander and utility Union Fenosa have renewed talks to sell their 36 per cent stake in oil group Cepsa to Ipic, the Expansion publication reported, citing unnamed energy-sector sources.

Santander and Fenosa are seeking between 30 and 40 euros per share for their stake, well below the 45 to 55 euro per share price range negotiated with Ipic last year when talks failed, the newspaper said.

Santander holds 31 per cent of the Spanish oil group and Fenosa five per cent, while France's Total controls 48 per cent.

IPIC already owns 9.5 per cent of Cepsa.

Based on a price of €30 to €40 per share, Santander stands to book a capital gain of €2.5bn to €3.4bn, Expansion reported.

The Abu Dhabi-based Ipic has offered between €30 and €40 a share for the 31.6 per cent and five per cent of the Spanish oil company that Santander and Fenosa hold respectively, according to the report.

The parties had previously discussed a figure closer to €55 a share for the stakes and IPIC is the only bidder that has made an offer for the holdings, the newspaper added.

No one at Cepsa could be reached for comment. A spokesman for Union Fenosa said the company had given the order to Santander to sell its five per cent stake in Cepsa months ago, and that it had not been informed that the sale had been completed. A spokesman for Santander declined to comment, as did Ipic.

Ipic has agreed to buy Nova Chemicals Corp, Canada's largest chemical maker, for $499m, as part of its drive to expand overseas and rely less on the emirate's oil wealth.

The transaction follows Ipic investments valued at more than $2bn in the past 18 months, including stakes in EDP-Energias de Portugal, Portugal's biggest electricity company, and Man AG's Ferrostaal, a German oil-services firm.
Follow Emirates 24|7 on Google News.