Money market funds gain $12.8bn from equities, bonds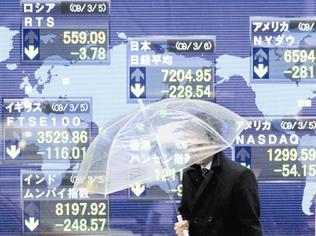 Money market funds gained $12.8 billion (Dh50bn) worldwide as investors preferred to conserve cash and risk appetite fell further.

As equity markets reeled from more news of cash calls, bankruptcies, dividend cuts and longer jobless lines entering March, investors drained another $10.4bn out of equity funds and $2.47bn out of bond funds.

EPFR Global, which tracks individual and institutional investor flows and fund manager allocations globally, said only six of the 24 major equity, fixed income and sector fund groups it tracks managed to post inflows in the week ended March 4.

Latin America equity and commodities sector funds saw their long inflow streaks snapped, redemptions from high-yield bond funds hit their highest level since the second week of October and balanced, global and Asia ex-Japan equity funds all posted net outflows of more than $1bn.

Emerging Europe funds continue to be hit hard, posting outflows for the eighth straight week and the 36th time in the past 39 weeks, EPFR said. China equity funds again surrendered more than $300 million and outflows from Korea equity funds jumped to a 65-week high of $216m.

Among the fund groups geared completely or partially to "frontier markets", flows were generally negative. Africa and Middle East regional funds posted their fourth and ninth straight weeks of outflows, respectively. But Vietnam equity funds absorbed fresh money for the fourth time in five weeks as inflows hit a 33-week high.

For the third week in a row, all of the major equity fund groups focused primarily on developed markets recorded outflows, with Japan equity funds again the biggest loser in percentage terms and US equity funds in dollar terms.

Year-to-date outflows from US equity funds now stand at $32.4bn, while investors have removed $2.99bn from global equity funds. Japan equity funds have had outflows of $1.72bn and and Europe equity funds have seen net redemptions of $539m.

"If there is any consolation, it is that outflows so far this year have been at a considerably slower pace than over the same period in 2008. When viewed in percentage of assets under management terms, however, outflows for all except Europe equity funds are running ahead of last year's pace," said Cameron Brandt, EPFR's Global Markets Analyst.

Outflows from Europe equity funds during the first week of March were a modest $283m ahead of the European Central Bank's anticipated 50 basis points cut in its key interest rate to a record low of 1.5 per cent.

"With regional equity indexes falling to six-year lows there has been some bargain hunting, the fears of contagion from indebted Eastern European consumers and banks notwithstanding," Brandt said.

Investors pulled $301m out of Japan equity funds, the 21st time in 22 weeks this fund group has posted outflows, as faith in the country's leadership plunged in tandem with most leading indicators. Business investment during Q4 2008 was off over 17 per cent, leading to expectations that the already eye-popping decline in GDP during that quarter will be revised lower.

GDP growth in the US fell at roughly half the Japanese rate during the fourth quarter, with the current consensus calling for things to bottom out during this quarter. US equity funds posted their fifth straight week of net outflows with mid-cap blend funds the only sub-group to take in fresh money.

Once again, this week US equity funds with a bias towards growth companies outperformed their value counterparts across all capitalisations, while the opposite was true in flow terms.

The two major diversified fund groups focusing primarily on developed markets again posted outflows. Redemptions from global equity funds hit $2.7bn, the most since the second week of October, while Pacific equity funds surrendered a net $55m.

All of the major emerging markets equity fund groups tracked by EPFR Global recorded outflows during the week ending March 4 as Latin America equity funds saw their eight-week, $795m inflow streak come to an end.

Asia ex-Japan equity funds saw the biggest outflows in dollar terms – a 20-week high of $1.09bn – while Emea equity funds again fared worst in percentage terms as they posted outflows for the 29th time in the past 30 weeks.

Funds geared to China accounted for a third of the money pulled out of Asia ex-Japan equity funds as official talk of eight per cent growth in emerging Asia's biggest economy was not supported by any additional policy measures.

Korea equity funds also suffered as attention shifted to falling export earnings and the amount of foreign held debt coming due this year. Funds investing in two of the other Bric markets, India and Russia, posted outflows, while Brazil equity funds saw a sixth straight week of inflows.

Despite another double-digit drop in the value of their portfolios, financial sector funds managed to take in a net $214m during the first week of March, the best showing among the nine major sector fund groups. But flows excluding ETFs showed minor outflows.

Overall, financial sector funds have surrendered a net $1.1bn year-to-date, with performance negative in eight of the nine weeks and declines exceeding 10 per cent in five of those weeks.

Commodities sector funds, the leading light so far this year, saw their 11-week inflow streak snapped as investors pulled $266m out of them. Another growth proxy, technology sector funds, recorded outflows for the fifth time in six weeks.

Flows into fixed-income funds remained defensive in early March. Money market and US bond funds again took in money. while the other four major groups posted outflows ranging from a high of $1.14bn for balanced funds, which invest in bonds and equities, to a low of $352m for emerging markets bond funds. Investors pulled $911m out of high-yield bond funds, making it their worst week since Q4 2008, and extended balanced funds' outflow streak to 30 consecutive weeks.
Follow Emirates 24|7 on Google News.