NRI businessmen turn to financing films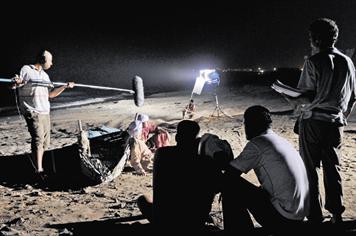 Faced with reduced investment options in the real estate and construction sectors and the stock market, non-resident Indian (NRI) businessmen in the UAE are putting their money into the film industry instead.

A South Indian film can be made for a few million dollars and if it becomes a box-office hit, returns are often very high. What's more, the investor benefits from the reflected glamour and glory.

The number of Indian movies funded with NRI cash is growing, according to Rajan Vaishak, a businessman operating in the construction, contracting and travel sectors.

"NRI investors have become the most prominent producers in the Indian film industry and many new investors are coming into the field," Vaishak told Emirates Business. "They believe filmmaking is a lucrative business, but the risk involved in film financing is as high as it is in the stock market and real estate."

Vaishak, who has a number of film projects in the pipeline, said some new producers burnt their fingers as the number of successful films is limited.

C Karunakaran of Carlton Films is another major NRI financier of Indian movies from Dubai who has made several blockbuster South Indian movies.

And Nelson Iype Mekattukalam, who has been operating a transport company in Dubai since 2004, started venturing into South Indian films this year.

"Investing in Indian film production is a good business now because there are more sources of revenue for a new film," he said. "In addition to film distribution revenue, there is also satellite revenue. If the film is professionally made, investors can make money."

Mekattukalam has linked up with three other producers to finance a South Indian movie that will be screened in four languages. We are negotiating with Nayantara over dates for him to act in the movie, which will be shot fully in Dubai," he added.

"I have been doing well in the transport business but due to the economic crisis the business volume has come down. However, I can anage both film production and my transport business simultaneously. If it is not done professionally the investor can lose money."

Mathew Joseph, a real estate businessman in the UAE and owner of Via Media Entertainment, has just commissioned a new Malayalam movie, Aagathan. Joseph told Emirates Business that many NRI investors were being lured into the film financing field. But he warned that if an investor had no direct presence in India, he could get bogged down in a project and lose money.

"Many people are taking NRI film financiers for a ride. Once you start a project with an initial investment the cost of the film will start to go up, and the NRI who is sitting in the UAE will have no control over the expenses.

"He cannot withdraw from the project as substantial amounts of money would have already been invested in the project," Joseph said, adding that in most cases the investor would be engaged in business or would be employed in the UAE.

"The risk involved in film financing is very high. Even if there are short-term fluctuations in real estate, the investment can appreciate in the long run. But the fate of a film is decided over a short period."

A film director said: "Many NRI investors are coming into film financing, thinking it is the only profitable business left now. They don't get enough returns from stock markets, real estate or other investments. In the case of films, if one succeeds, the rate of return is very high."
Keep up with the latest business news from the region with the Emirates Business 24|7 daily newsletter. To subscribe to the newsletter, please click here.
Follow Emirates 24|7 on Google News.