Roche increases Genentech offer to $45.7 billion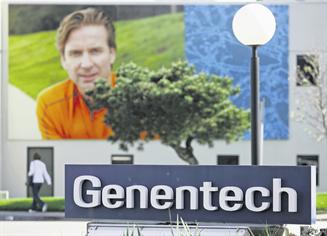 Roche Holding raised its bid to buy out the minority shareholders of Genentech by 7.5 per cent to $93 (Dh341.6) a share and extended its tender offer by a week, driving Genentech shares more than 11 per cent higher on Friday.

The sweetened offer for the 44 per cent of the US biotech company Roche does not already own takes the cost of the deal to $45.7 billion. All other terms and conditions remain unchanged, the Swiss drugmaker said in a statement.

"We are increasing our price to $93 per share to maximise shareholder participation and will proceed quickly to complete all necessary financing," Roche Chairman Franz Humer said.

Despite the increased offer, Roche said: "We believe that the $86.50 per share initial offer price is fair."

But Roche said it had, so far, received acceptances for just 500,000 shares under the tender process at the lower price out of the nearly 465 million shares outstanding it does not already hold.

The tender offer was due to expire on March 13, but Roche has extended it until March 20. Analysts believe Roche is hoping to complete the deal ahead of data from a study due in April on Genentech's most important cancer drug, Avastin, that if positive could significantly boost its share price.

"If the [Avastin] trial works, then I think the stock goes to at least $100," said Matt Loucks, a portfolio manager for Sit Investment Associates of Minneapolis that holds about 348,000 shares of Genentech. Loucks said he would likely tender half to 75 per cent of his Genentech holdings while retaining a portion in case positive Avastin data drives the share price much higher.

The shares of Genentech, the world's biggest biotech company by market value, jumped $9.22, or 11.3 per cent, to close at $90.86 on New York Stock Exchange.

Christopher Raymond, an analyst for Robert W Baird in Chicago, said there was a 75 percent chance Roche would get the deal done at the new price.

Geoffrey Porges, a Sanford Bernstein analyst, called the offer "significantly more difficult for minority shareholders to turn down". "I don't think this a slam dunk at $93, but it's got a much higher probability of success than $86.50," he said. Given the state of the overall market, "a firm offer of $93 is going to look pretty tempting to a bunch of those minority shareholders", he said.

Genentech urged shareholders to take no action on the new offer at this time and said the special committee of its board would make a formal response "promptly" and explain the reasons for its position. Analysts had generally agreed Roche's offer of $86.50 had little chance of success, especially as it represented a decline from the $89 Genentech rejected last summer.

Nick Turner of Mirabaud Securities in London said $93 was a "pretty decent" premium over what Genentech might be trading at if there was no Roche offer on the table. "It's always been in my mind that [Genentech] management would hold out for $95 and above,' he added.

The acquisition, if successful, will give Roche full rights to Genentech's portfolio of lucrative cancer drugs and other medicines, including Avastin, which is approved to treat advanced colon, breast and lung cancers and is being tested for several other uses.

The eagerly awaited study involves colon cancer treatment following surgery and could expand Avastin's use to a much earlier stage of

the disease. In a presentation for analysts and investors held on Monday, Genentech said Avastin sales could reach $10 billion a year by 2015.
Follow Emirates 24|7 on Google News.