Sarasin's $100m GCC equity fund to open tomorrow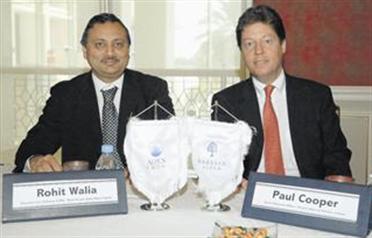 Sarasin-Alpen & Partners Limited, an asset management company, yesterday said it would launch its Sarasin GCC Equity Opportunities Fund tomorrow.

The fund aims to achieve long term capital growth by investing in the equity markets of Saudi Arabia, Kuwait, UAE, Qatar, Oman and Bahrain.

Rohit Walia, Executive Vice-Chairman and Chief Executive Officer of Bank Sarasin-Alpen (ME), told Emirates Business that the $100 million (Dh367.35m) fund would invest in securities and stock and would be closed in four to six weeks.

"The GCC is a region full of opportunities and it is with this mind that we chose to launch the Sarasin GCC Equity Opportunities Fund. It has an established award winning investment process, developed not just to cope with but to prosper from the unique characteristics of the region," said Rohit Walia.

"These are extraordinary times but extraordinary times create extraordinary opportunities," said Paul Cooper, Senior Executive Officer, Sarasin-Alpen and Partners Limited. "The GCC equity market is almost 70 per cent off its 2006 peak, losing 57 per cent in 2008 alone, despite an excellent economic performance over the period. While a slowdown in 2009 is inevitable, it appears to be more than fully discounted in equity markets. When the dust finally settles on the global financial crisis, I believe that investors will look at the challenges facing the global economy and increasingly appreciate the strengths of the region."

"We are delighted to launch the new Sarasin GCC Equity Opportunities Fund addressing investors interested in the GCC region. In line with Bank Sarasin's point of view on a global scale, the fund is the perfect translation of our conclusions for the GCC region. Always aiming to provide the best services to the bank's selected, experienced and demanding clients, the new product is launched at exactly the right moment," adds Burkhard P Varnholt, Chief Investment Officer of the Sarasin Group, Switzerland

By global standards, the region's equity markets are highly volatile with low correlation; characteristics which often prove difficult for investment professionals to handle.

However, such characteristics are incorporated seamlessly into this fund.
Follow Emirates 24|7 on Google News.