Syria attracts Gulf retail investors as it opens up economy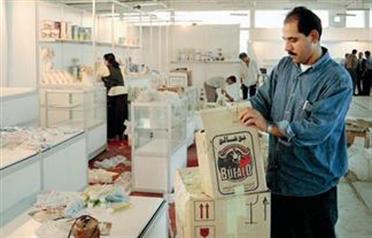 Syria's retail sector is attracting interest from major players and investors in the Gulf region as the country opens up its economy.

The UAE's Al Futtaim Group and Emaar and the Saudi Binladin Group of Saudi Arabia are among those planning to open large shopping malls there, a leading Syrian businessman told Emirates Business.

"Several mega-malls and hypermarkets are in the pipeline," said Antoine Addoumieh, Executive Manager of the Aleppo-based Addoumieh Group.

"Local business groups are developing projects in partnership with Jordanian and Gulf companies. Investors such as Emaar and Al Futtaim will succeed in their plans."

The Syrian government has liberalised the import trade and many foreign goods have been removed from the 'negative list' of banned items. Developers hope this will lead to the expansion of the retail infrastructure as more imported brands become available.

"Until last year the retail sector in Syria did not have any big malls or hypermarket chains because imports of foreign consumer goods and electronic items were banned," said Addoumieh. "Unlike the UAE, where there are many malls and supermarket chains, Syria has only a handful of big department stores.

"Many consumers had to go to Lebanon to do their shopping. Some of the big duty free shops in the border towns attracted super-rich customers who could afford to pay in dollars. As the political relationship with Lebanon deteriorated Syrian customers stopped going there. Now the government has lifted restrictions on many foreign goods. While the rich go shopping in Lebanon, people from Lebanon and other nearby countries come to Syria to buy non-luxury items, which are cheap."

Addoumieh's family-run business is diversifying from construction to retail and plans to open a large department store in Aleppo in June.

"We are developing a 4,000 square metre store with a government loan of $10 million [Dh36.73m] repayable over 10 years. It is a build-operate-transfer project because the private sector in Syria does not hold enough land to develop malls. Business groups need finance to develop such schemes.

"There is an acute shortage of land in the Syrian cities and government-owned land has to be released for mall development."

"When big shopping malls open in Syria we won't have trained staff. The 75 English-speaking and computer-literate staff needed for our new store may not be available in the country. We have just become members of the Middle East Council of Shopping Malls to learn from the group."

Syria, which has a population of 20 million, has been largely unaffected by the global financial meltdown.

"The economy is isolated from the crisis and shares crash because we do not have a stock market. Only the rich Syrians have invested in foreign stock markets."
Follow Emirates 24|7 on Google News.