Dubai leads in Islamic finance with new Shariah Hedge Fund Index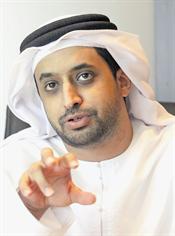 The Dubai Multi-Commodities Centre Authority (DMCCA) and Shariah Capital yesterday launched the Dubai Shariah Hedge Fund Index – the first of its kind – to monitor the performance of Islamic hedge funds investing in commodities.

The Index reflects the performance of the DSAM Kauthar Commodity Fund. DKCF is an equally-weighted fund-of-funds comprised initially of four single-strategy, commodity-focused funds that invest exclusively in Shariah-compliant long/short equity hedge funds on the Al Safi Trust platform.

The Al Safi Trust is a comprehensive Shariah-compliant platform designed specifically for hedge funds and launched recently by Barclays Capital and Shariah Capital. Distributed under the DSAM Kauthar label, the four funds underlying the index have been seeded with $50 million (Dh183.6m) each by DMCCA. They are DSAM Kauthar Gold Fund (25 per cent), DSAM Kauthar Energy Fund (25 per cent), DSAM Kauthar Natural Resources Fund (25 per cent), and DSAM Kauthar Global Resources & Mining Fund (25 per cent).

The Dubai Shariah Hedge Fund Index itself is not an investable vehicle. However, it mirrors the returns of the DSAM Kauthar Commodity Fund (DKCF) which is open to institutional and individual investors on a monthly basis. For the first time, Islamic investors can use the index to compare the performance of their other professionally-managed absolute return investments and to determine strategies that include diversification into commodities such as those covered by the index.

Ahmed Bin Sulayem, Executive Chairman of DMCCA, said: "The purpose of the fund index is two-fold. First, it provides a benchmark for investors in Shariah-compliant hedge funds who are looking for absolute investment returns, particularly in commodities, during periods of market volatility. Secondly, it reconfirms Dubai's leadership role in Islamic Finance by its support of innovative solutions for those interested in Shariah compliant investment products, like the DSAM Kauthar funds. It represents another significant step for Islamic finance into the mainstream of global investing."

Eric Meyer, Chairman and CEO of Shariah Capital, said: "The Dubai Multi Commodities Centre Authority and DSAM have established the gold standard for Islamic hedge funds with this index. Under Ahmed Bin Sulayem's leadership, DMCCA has selected and seeded prominent hedge fund managers with established track records who have accepted our Shariah guidelines and who are committed to superior absolute returns. We expect that more conventional hedge fund managers will now explore the opportunity of managing within Shariah and make their skills available to the growing number of Islamic investors."

Shaykh Yusuf Talal Delorenzo, Chief Shariah Officer and Board Member of Shariah Capital, reiterated the discipline of the index's underlying funds within Shariah: "We have taken exhaustive steps to ensure that each company within the funds' portfolios passes our Shariah screens and that all trading is executed within the strict parameters established by the Al Safi Trust Shariah Supervisory Board."
Follow Emirates 24|7 on Google News.