Banking on the move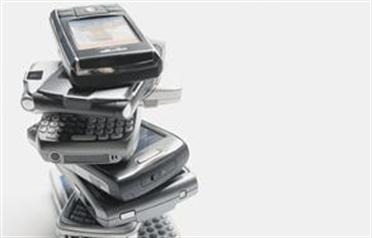 After years of talking about using mobile phones for banking, the idea is finally taking off. Several major banks are now offering customers in the UAE some form of mobile banking – from alerts and bill payments to money transfers and new accounts. But how safe and secure is phone banking, can it upstage internet banking, and can it really help consumers manage their finances more efficiently?

It's all in the delivery

"Consumer banking needs are becoming more sophisticated, coupled with technology advancement, so it's imperative that banking service delivery is upscaled accordingly," says Chris de Bruin, Head Consumer Banking, Standard Chartered UAE.

Mobile banking can be delivered in three ways: Via text messaging, through a phone's web browser, and using a bank specific application.

SMS alerts are available to the widest audience as even older phones are text-enabled. However, they are very limited and less secure as texts are unlikely to be encrypted. Browser-based banking recreates the online banking experience on your phone and this is more accessible with a majority of phones now featuring a browser. Finally, you can access phone banking services through a pre-loaded or downloadable bank-specific application, which can be easier and faster to access than a browser-based version.

Push-Pull strategy

Far from asking who provides SMS alerts, it's easier to ask who doesn't, as most banks in the UAE have expanded their online banking services to the handset. However, most of these are still at the toddler stage, and are limited to SMS.

That said, these services – from ADCB, Emirates Bank, Standard Chartered and HSBC – still allow customers to access account information in seconds and on the move. The most popular service is a Push-Pull system: Banks invite customers to set SMS alerts for deposits, withdrawals and balance limits via a 'Push' facility, or customers can opt to 'Pull' or request specific details about account or credit card balances and recent transactions.

And with services such as ADBC Mobile and NBD Mobile Banking, you can pay utility and etisalat bills via text. "It's important to know what's happening with your account, and SMS updates give you a much clearer picture of your finances, especially in these times when people are watching their pennies," says Richard Boyd, Wealth Manager at independent financial advisors, Globaleye.

The world at your fingertips

The new wave of mobile banking relies on a web browser to give customers the power to manage their finances.

Mashreq recently launched its mobile banking service for transactions, account servicing, credit card and utility bill payments, and transfers between Mashreq accounts. This uses a specific Mashreq mobile banking application that, once downloaded, can be accessed anywhere in the world. "Mobile banking is now a key service for consumers who expect their bank to be available to them anytime and anywhere. We are enabling six million users across the UAE who have mobile phones to connect with their bank account," says Douglas Beckett, Head of Retail Banking at Mashreq, who expects the service will attract new customers to the bank.

Emirates Bank's mePDA service provides internet banking services through a PDA-enabled online banking site; allowing customers to access account details, make transfers and pay bills. And Dubai Bank's Mobile Banking service even lets customers make cash advance requests, do international money transfers and set up new accounts.

Is your phone compatible?

The UAE's phone operators are also encouraging customers to bank on mobiles. In partnership with financial institutions across the UAE, the etisalat Mobile Payment Service offers mobile banking for Abu Dhabi Islamic Bank, while its Mobile Money Transfer Service lets etisalat subscribers transfer money to home countries or within the UAE over the phone. This service suits an expat population sending money home regularly and relatives can receive the money at a bank, via their own mobile operator, or at post offices.

Mobile banking provides both added revenue for the phone companies and offers value for customers. "Given the number of people who now own a SIM-enabled device, it is clear that the future of many industries will require a mobile commerce channel strategy," said Rashed Alabbar, Senior Manager, Product Marketing, eBusiness at etisalat, during the 2008 Mobile Money Transfer Conference in Dubai. Indeed, the UAE has the highest mobile phone penetration rate in the Middle East and North Africa, which is set to surpass 200 per cent in the next five years.

Rival mobile operator du has yet to offer banking services, but it does allow customers of Emirates Bank, Dubai Islamic Bank, Mashreq Bank and CBD to pay du bills and to recharge prepaid accounts simply by SMS. Farid Faraidooni, du's Executive Vice-President, Commercial, says these services have been on offer since 2007, and the provider is working to offer newer services through tie-ups with more banks in the future.

Getting started

Before you even leave the starting block, you will need to have internet banking with the bank in question.

Then register for mobile banking online and you are away. For web browser services, you will need an active GPRS, 3G, or Wi-Fi connection (i.e. an ability to connect to the internet) and a browser-enabled mobile device such as a Blackberry, Nokia N-Series, iMate, HTC, Samsung or Apple iPhone. You will then need to download a phone banking application from the bank for these services to work.

Adding up the cost

The good news is phone banking services are free and the only charge is from the network, either etisalat or du. A typical transaction including a balance enquiry, phone recharge and credit card payment costs less than Dh1.
The pros

The internet changed banking forever – and it looks like mobile phones are now set to change the way we manage money. Far from being just one more channel to access online banking services, mobile banking is immediate, lets you keep tabs on and control your account on the move, and is widely accessible.

What's more, with SMS alerts you know instantly if you are overdrawn or have been paid – no log in or mouse click required. For the consumer this is a huge step forward. Barry Allan, an Emirates Bank customer, 34 and Technical Manager from the UK says: "It's all about convenience, speed and efficiency, in essence having a 24-hour banking service at your fingertips. In other words, not being restricted by banking hours or web connectivity to access your money."

Strategy

Banks have a number of reasons for introducing mobile banking, not least to cut costs by reducing calls to customer-service representatives for basic account information. It is also the latest in a long line of electronic services set up to acquire and retain customers.

Security alert

Phone banking brings personal account information into the open – but is that a threat if you protect your User ID and password? And what if your phone is stolen?

Mashreq says it has "highly advanced security features". These include a secure registration process and sign on, as well as multiple security checks for transfers. Customers are also asked to enable support html tables and java script on their phones.

It also improves security by allowing banks to quickly notify clients of potentially fraudulent transactions.

But there's one inevitability security cannot allow for. "People lose their phones at an alarming rate and if you have saved lots of SMS alerts from your bank there could be security issues with this," says Globaleye's Boyd.

The future

According to UK mobile phone banking group Monilink, over the next five years more people are expected to manage their money through their phone than over the internet. The next step in mobile banking is using a phone to make purchases – a service already on trial in the US. It involves waving the phone at point-of-sale devices. Could this be the future for banking in Dubai?


Net, cell or real

MOBILE PHONE

Pros

+ Convenience

+ Global access

+ Receive instant SMS alerts about your finances

+ Costs less than Dh1

Cons

- Security risks, especially as mobile phones are easily lost

- Limited banking applications at present

INTERNET

Pros

+ Wide range of banking applications available from any computer

+ Risk of hackers, phishing and viruses

+ Easy to use and 24-hour access

+ Save money on bank fees

Cons

- Faceless method of banking at a time when trust in banks is low

- Must pay for/have access to internet connection

IN-BRANCH

Pros

+ Face to face contact with a personal banker

+ Low security risk from hackers and thieves

Cons

- Lengthy queues and waiting times for an appointment

- Higher fees for certain services such as transfers

- Limited opening hours – not 24/7

- Paper trail of statements and forms
Follow Emirates 24|7 on Google News.