Classic Conran lives on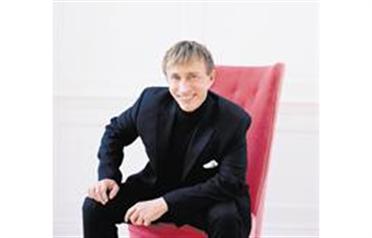 With a career spanning decades, he is one of the UK's leading names in fashion.

Always energetic, never without a collection or project in the making, his ambition shows no sign of downscaling as he turns 50 this year.

"If I bring pleasure to people through my work, success will follow," says Jasper Conran, and it's a theory that has served the designer well.

"Among other things," he says, "I would love to design a hotel." Based on previous form, he is likely to achieve his goal. Fashion design is his natural domain, but a knack for "clean lines and an inescapable Britishness," as he puts it, has earned him recognition in many other areas.

Theatre costumes, china, crystal, luggage, fragrance, fabric, fireplaces and eyewear have all received the Jasper Conran treatment.

"I thrive on the diversity of working with different materials," says the designer.

But it's not just creative satisfaction that drives him. He says: "I am 100 per cent designer, 100 per cent businessman – it just depends what hat I have on."

This balancing act is paying off for Conran, whose ability to spot a niché in which his talents can thrive has led to much commercial success. He is a master of clever alignments with brands that share his vision of excellence. Of his collaborations with Wedgwood, Waterford, Designer's Guild and Chesney's, he says: "Working with craftsmen and experts in their field is a huge privilege.

"Their incredible skills can't fail to inspire you."

While respectful of tradition and craftsmanship, he is not constrained by it, and he describes his 'signature' as "a blend of classic British elegance with cheeky irreverence, wit and style".

For Wedgwood, ornate designs like 'Chinoiserie' are a nod to patterns from the china specialist's vast archive, but they are reinvented for the 21st century, designed to enhance the enjoyment of the modern dining experience. The chic collections for Waterford make crystal, once doomed to reside in fusty display cabinets, something that's desirable to be used every day – and worthy of a place on the most stylish wedding lists.

When designing fireplaces for Chesney's, Conran delights in following the rich tradition of fireplace design only so far, deviating from the expected to create something new. "I chose limestone as my preferred medium, not stone or marble, because it's pale and not overly traditional," he says.

Reinterpretation is also the stimulus for Conran's fabric designs for Designer's Guild. Sackville Street, named after the location of his beloved flagship store, is his latest collection. Inspired by classic suitings and tie designs – it takes a fresh look at flannel, pinstripe, bird's eye and windowpane check.

So how does he marry his expertise in fashion with his other design enterprises? "For me, it's about style, which is not purely defined by the clothes that people wear," he says. His guiding principle, he adds, is to "offer a way of looking at something differently".

Prolific designer and astute businessman – among Jasper Conran's other guises is that of property renovator.

He restores his own period homes "with love and attention" and took a hands-on role in transforming a luxury Georgian townhouse in London's Mayfair into a stunning showcase for his collections. Conran oversaw the restoration of the impressive four-storey space in Sackville Street with a meticulous eye for detail. Rumour has it that the interior was repainted nine times to achieve the right shade of grey.

In consultation with English Heritage, original mouldings, fireplaces and a cast iron stairwell were painstakingly restored.

More stately pile than shop, the interior has the air of a tableau vivant with the protagonists momentarily out of view. The dining room, for instance, is set for dinner. Jasper Conran's Wedgwood and Waterford collections are artfully arranged on a grand table, a dazzling display of crystal glasses, platinum-rimmed china, polished cutlery and crisp linen.

In many ways, Sackville Street is the embodiment of Jasper Conran's design ethos. It has been reinvented as a contemporary space that remains sympathetic to its heritage. The designer says: "It is a fine balance creating something that does not live in the past."

Whatever the discipline, there is something playful about Jasper Conran's designs. Could it be inspired by his passion for the arts?

Having designed costumes for the theatre, ballet and opera, he knows all about dramatic effect.

"I wouldn't call my approach theatrical," says the designer. "But I certainly use the same thought process in all of my work. I always want to create something that has a definite point of view in its context."

Unlike some fashion designers and celebrities who have turned their hand to homewares, Jasper Conran has credibility, backed up by critical acclaim. His designs have attracted a bounty of prestigious awards, including the Prince's Medal at the Homes and Gardens 'Classic Design' Awards the Design and Decoration 'Object of Desire' Award.

But the accomplishment of which he is most proud is being appointed OBE last year, in recognition of his services to the retail industry. "Of all my achievements so far, that was the most incredible honour," he says.
Follow Emirates 24|7 on Google News.