Covered by a few extra dirhams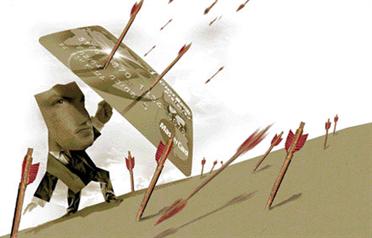 With the financial crisis touching an increasing number of lives in the UAE, credit cardholders have been left wondering how to tackle their bulging balances.
It seems credit shield policies – temporary protection plans available on most credit cards – promise to offer a respite. The scheme, which can be activated when applying for a credit card, claims to provide cardholders with the security of knowing they are covered against outstanding credit card balances in case of an inability to pay.
In other words, the bank or insurer will shell out the money to pay the monthly credit card installments in case you get sacked for reasons such as business closure or company layoffs, but not poor performance.
Some will even cover monthly card payments for up to 12 months, or until the customer finds a new job.

But despite the different variations of the scheme offered by UAE banks, reaping the benefits of credit shield is not always simple.

Variations Galore

Some banks don't offer credit cover for at least 30 days after the cardholder reports involuntary job loss. Others only cover outstanding payments if the customer was laid off at least three months after the credit shield activation. And you most likely won't see a dirham if you've only activated the credit shield on your card after being fired from your job.

So the message from banks is, plan ahead. "Activating credit shield post a loss of job is like buying an insurance policy today to cover for yesterday's loss, which is not allowed in any part of the world, as insurance is taken to indemnify one against an unforeseen event," says Zeeshan Saleem, Head of Credit Cards at Barclays.

Saleem says it is simple to claim insurance if you're a customer already enrolled for credit shield and have lost a job. "Insured individual needs to submit a few documents like a notice of termination from the employer, copy of passport with visa page, and copy of the labour contract from the employer to verify the period of employment contract," he says. "The claim can be made only if the credit shield insurance is active or applied for by the customer."
The turnaround time to claim the insurance is about two to three weeks depending on the type of claim. Once approved, the insurance company pays the card's outstanding balance.

The Devil in the Details

Although the programme does offer peace of mind particularly in today's uncertain job market, it's important to read the fine print of your credit shield coverage.
To make a claim, Citibank says cardholders must have been employed for 12 continuous months with the same employer during the 24-month period before the claim date.
The bank also rejects claims from job losses due to misconduct, and from cardholders over the age of 65 from date of unemployment.
"We view Credit Shield as a valuable product that can further protect customers, especially in times like these.

Our approach has been to offer the product to customers in a very transparent way and let them decide on its value to them at certain price points," says William Keliehor, Citi Credit Cards Head for Middle East, Africa and Pakistan.

The credit shield payments stop when the cardholder resumes work or when the maximum benefit payment term of three monthly installments has been reached for any one claim, or six monthly installments in total for several Involuntary Loss of Employment (ILOE) claims during the period of coverage.
While Citibank cardholders insured with credit shield would have their monthly installments covered for each month they remained unemployed, the bank said a claim is turned down if the customer is sacked within the first month after activation of the policy.

"The waiting period is calculated from the first day of ILOE commencement. No benefit is paid for the first 30 days," the bank says. That means if a customer presents a redundancy letter in February, his credit shield, if approved, will cover the monthly due amounts starting from the end of March.

At Mashreq, customers can apply for a claim against credit shield cover immediately but the bank said benefits for involuntary loss of employment are only paid if the customer was laid off at least three months after the credit shield activation.

"However, if the customer has had the policy cover for more than 90 days and has just become unemployed, he can immediately apply for a claim. Hence, it is advisable to sign up for credit shield even if one's job is secure today to cover any eventuality in the future," says Vimal Kumar, Cards Business Head at Mashreq.

Mashreq's credit shield fees are charged on the card's billing date and costs 0.65 per cent of the outstanding balance. "In the current economic environment, it is extremely prudent to cover as much of one's liability arising out of unforeseen circumstances."
The feature gives customers peace of mind to use the credit card freely, without worrying about any unforeseen events in the future, he adds.
In the case of insured cardholders who have recently been sacked from their jobs, Kumar says 10 per cent of the outstanding balance on the card is subject to a maximum coverage of Dh2,500 for Classic and Gold cards and Dh4,000 in the case of Platinum cardholders.

Customers must notify the bank in writing no later than 30 days from the unemployment date to claim the coverage, as well as complete the standard claim form and submit the required documents. Kumar said credit shield will activate within 10-30 days and the amount will be credited to the cardholder's credit card account.
No Job Loss Cover

However, not all banks that offer credit shield cover job layoffs. Emirates NBD offers an 'ultra' credit shield scheme on its credit cards but it does not protect customers against involuntary layoffs. The bank declined to respond to queries from Emirates Business.

HSBC's optional Credit Cover – charged at 0.2 per cent of the cardholder's monthly outstanding – is insurance that protects outstanding balances against death or permanent total disability. However, the bank said it does not cover loss of employment at this point in time.
Follow Emirates 24|7 on Google News.