Downtown Dubai rents begin to soften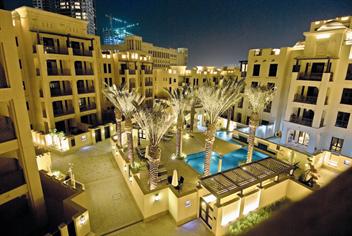 Demand for homes in the prestigious Downtown Burj Dubai development was strong during the last year – reaching its peak in the summer of 2008. But prices have slid since the start of this year and continue to fall despite strong demand.

Estate agents said it is difficult to offer specific rental and purchase rates in the development due to the wide variety of properties, which range from studios to vast serviced apartments.

However, agents questioned by Emirates Business agreed that prices were dropping.

A one-bed selling in Downtown Burj Dubai on sale for about $2.4 million (Dh8.8m) in 2008 is now on the market for $1.4 million, while a three-bed that was $5.1 million last year now sells for about $3.4 million.

In terms of rentals, a one-bedroom flat on the market last year for Dh150,000 now rents out for about Dh115,000 a year while a three-bedroom, once on the market for Dh350,000, has dropped to Dh250,000.

Links Gulf Real Estate, the property broker which compiled the figures, said the development's Old Town district was typically more expensive per square foot, but had recently reached parity with other areas.

"If owners cannot sell they will just rent, especially to corporations who give the one-cheque option in a growing six to 12 cheque rental system," said Melissa O'Gorman, Sales Manager at Links Gulf Real Estate.

Downtown Burj Dubai is more popular with young, single professionals than families – indeed, most residents work in the city's financial district.

Old Town and Old Town Island, built in a traditional Arabic form and symbolise an old souk or fort village, consist of one- to four-bedroom apartments and villas, high-end shops, cafes, mini-malls, four hotels, nightclubs, bars, supermarkets, conference facilities, and beauty salons. "[This area is] is definitely moulded to attract young urban professionals, DIFC executives and 'dinkys' [double income no kids yet]," O'Gorman said.

"Ironically it was slow to sell off-plan but became hugely popular as it began to take shape. Especially Old Town Island as it has an elitist quality attached to the address. If you were to compare Downtown Dubai to Manhattan, then Old Town Island would be Park Avenue."

Hamptons International said ongoing developments such as the opening of the Dubai Fountain – a 1,250ft (380 metres) spectacle expected to be about 25 per cent larger than The Bellagio Fountain in Las Vegas – and Burj Dubai later this year would sustain investor interest in Downtown Burj Dubai.

"The central location of the project will continue to make it a preferred purchase option for home-owners.

"In the past year it has become a business and residential hub with the hand over of homes in The Residences and The Old Town," a spokesman said.

The new six-tower South Ridge property consists of one- to three-bedrooms apartments and two- to three-bedroom penthouses on the top floor.

"They are constructing three schools in the area, one of which will be in front of South Ridge, along with a sports centre and mosque," O'Gorman said. Other amenities in the property include a mini-theatre, library, leisure deck and electric barbecue area. A one-bedroom flat in South Ridge rents for about Dh130,000, according to Better Homes.

Another group of towers, The Residences, was released two years ago and features nine high-rise residential apartments built on the shores of a 36-acre lake.

The property has one- to four-bedroom luxury residential suites, penthouses and villas, as well as a gym, pool, and squash court facilities. One-bedroom apartments in the Burj Residences can be rented for about Dh120,000 a year while renting a two-bedroom flat may cost anywhere between Dh165,000 up to Dh200,000, depending on the view and size of the property, Better Homes said.

"Investors and end users favour this area and especially witnessing price drops up to 34 per cent. We will soon witness stability in this market. A number of buyers have already come forward to capitalise on the reduced prices but more significant is the enquiries from buyers just waiting to see when the prices will stabilise, before they commit themselves," a Better Homes spokesperson said. Other residential towers coming on line in front of Burj Dubai include 8 Boulevard Walk, Clarendon, and 49 Boulevard. The agency added that while rental rates in Downtown Burj Dubai have been the slowest to fall, they are falling despite high demand. Prices in the project fell 28 per cent between the final quarter and the third quarter of 2008, dropping from Dh3,750 per sq ft to Dh2,700 sq ft, according to Asteco's latest figures. In comparison, rents in Dubai Marina dropped 18 per cent from Dh2,200 in the third quarter to Dhs1,800 per sq ft in the last quarter of 2008.

"These projects were launched at significantly high price levels and in the last quarter, we have seen a correction in some secondary sale prices as investors and speculators are looking to re-sell at a lower rate depending on their liquidity needs," Asteco managing director Andrew Chambers said last month.

When fully completed the Dh73 billion project will be a mixed-use neighbourhood anchored by Burj Dubai and made up of five-star hotels, 19 residential towers, business and leisure facilities, and the newly opened Dubai Mall. It is set across 500 acres of land between Sheikh Zayed Road and Business Bay and will be accessible through direct connectivity to the Dubai Metro via the 4.6km tram system, which is expected to provide links for users to and from the development.

Burj Dubai itself will be a mixed-use tower with residences and commercial spaces – in addition to The Armani Hotel Dubai and Armani Residences – as well as four swimming pools, a cigar club, library, exclusive residents' lounge, serviced residences, 15,000 sq ft of fitness facilities and a public observatory on the 124th level.

Emaar said the tower is on course to open this year.


Where I live

David Spencer bought a two-bedroom apartment in Old Town a year ago for Dh2.6 million, before the price peak.

He believes sale prices in the development have since fallen by about 10 per cent, while rental prices have dropped by as much as 20 per cent, with landlords now allowing tenants to pay in smaller installments. Although not planning to buy more property in Dubai, he said he believed Downtown Burj Dubai to be the safest real estate investment in the city.

"As this is a developing market, it's hard to tell where the floor is and the intrinsic value of property," he said. "Though if I were to buy in Dubai, I would definitely still choose this development.

"Burj Dubai will likely be the tallest building in the world for at least another decade, and this area will no doubt be the financial centre of the city. So no matter what happens to the city, this development should have the least elastic demand in my opinion," Spencer said.

He added the location of Downtown Burj Dubai meant people can walk to almost everything they need yet the development was still peaceful and quiet. "The only con is that it's not on the beach, though with the pools in Old Town you don't really miss it."
Follow Emirates 24|7 on Google News.