Go wild for garden pots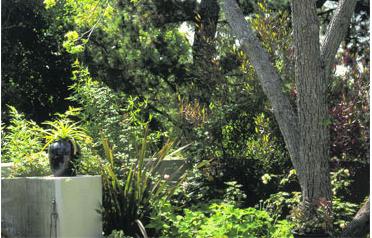 Not all of us have the luxury of living in a villa surrounded by a large lush garden. For some people in the UAE a balcony is all the outdoor space there is. But don't let this put you off from becoming green fingered.

Although this space is small it doesn't mean you can't have big ideas. The size of the balcony will obviously limit the amount you can do with it, and this will be one of the determining factors.

Ask yourself if you want a practical space or one to look at. If your view is not great you may consider obscuring it with planting or decorative features. If, however, you have enough space and like the view, the first thing to do is to find the furniture you like and design the rest of the space around that. When selecting chairs and tables choose something practical that fits, do not crowd the space. Remember dust is a big issue in Dubai, so make sure you choose furniture that is easy to wash down.

Pots can be used in a variety of different ways and come in a vast array or colours shapes and sizes. And this versatility makes them a great choice for small spaces. Used for planting, they can compliment or contrast the plant that lives in them and the great thing about pots is that they can be moved, giving a more dynamic nature to the space. Because you can also take the plants indoors during the summer months it enables you to use rain-forest and other indoor plants within your design. But remember if you are going to be moving the pots you won't want them to be too heavy.

When placing pots think, not just about the type of plants, but the colour combinations, textures and shapes – try to create a pleasing aesthetic harmony.

Hanging baskets are also a great way to emphasise height and to help create a wall of foliage or to obscure an unwanted view. Trailing plants such as Allamanda, with its yellow trumpet like flowers is very hardy, or use Quaisqualis Indica (Rangoon creeper) with its fragrant pink clustering flowers.

The one problem with planting in pots is that you have to remember to water them regularly as they dry up very quickly and the plant will suffer and die. For those who want to be able to have plants on the balcony but don't want to go out and water them every day container water gardens are a great and easy alternative.

Consisting of a water-tight pot filled with aquatic plants, they need very little maintenance. There are many aquatic plants that can be used such as Nymphaea (water lily) and Nelumbo Nucifera (lotus), which have beautiful flowers. Cyperus grass and Typha Angustifolia, Pistia stratiotes (water lettuce), and Eichhornia Crassipes (water hyacinth) float on the surface and make an attractive display.

These can all be planted separately in their own containers, or can also be clustered together to create individual small gardens.
Pots can also just be used simply for their own unique beauty. Try placing three different sizes together, or use them to house a collection of tall canes or bamboo, twisted twigs, dried flowers, peacock feathers, or anything else of interest.

Take the opportunity of the cooler weather to spruce up your balcony and turn a dull unused space into your own private oasis.


The mini ecosystem

The true marvel of the container water garden is that it works as a complete, virtually self-sustaining ecosystem where each element has one or more functions that help the other elements survive.

The garden is made up of an ornamental flowering lily or lotus for its aesthetic value, and a combination of submerged and floating plants that help to reduce algae and provide food and shelter for fish and snails, which in turn provide nutrients through their waste to feed the plants.

I usually use a lotus or a lily for the centrepiece as their flowers are spectacular. They like to be planted about a foot below the water surface. An upside down pot can be used to place them at the desired height. Planted in a circle around the base of the container I use a variety of aquarium plants that can be bought from any aquarium shop.

These plants affect the carbon levels of the water by competing directly with the algae, that might grow in the water, for light and food. They absorb nutrients from fish waste through their leaves, helping to starve the algae thus keeping the water clear.

Floating plants such as water lettuce and water chestnut help to reduce direct sunlight into the water, which also helps to reduce algae. These plants also reproduce quickly so they need to be regularly thinned. Remember, only two thirds of the surface should be covered with foliage.

The foliage's dangling roots also provide hiding places for baby fish. Guppies are a great community fish that are easy to breed. The males are incredibly colourful, with large flowing fins, while females are dull in colour and about three times larger. They feed off the algae and any mosquito larvae thus completing the garden ecosystem.
Follow Emirates 24|7 on Google News.