Home to the Ranch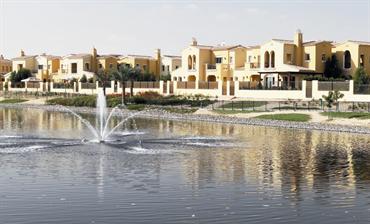 With a golf course, school, supermarket, shops and restaurants within walking distance, not to mention horse and camel stables and a polo club across the road, Arabian Ranches is a community with it all.

But perhaps the best news for early investors is the return their properties have made since they were launched seven years ago.

Research by Asteco reports that over the past three years, prices have increased by almost 200 per cent due in part to the choice of properties available.

Andrew Chambers, Managing Director of Asteco, says: "Sales prices in the Arabian Ranches increased to Dh2,200 per sq ft giving investors who bought early on great returns. The variety of sizes and spaciousness make the development very popular for everyone."

Meanwhile, data from estate agent Hamptons has revealed that even though prices have fallen about 10 per cent over the past three months to Dh1,600 per sq ft from Dh1,800 per sq ft, buyers who purchased homes in the first half of last year have still made good returns in less than 12 months.

The community, which was one of the first freehold areas open to expats, was launched in 2002 with reports at the time suggesting developer Emaar was inundated with applications to buy. This is perhaps not surprising considering the Palmera villas, for example, started from just Dh688,888 at approximately Dh400 per sq ft.

Ranging from 1,850sq ft to 3,080sq ft, they were a huge difference to today where it is virtually impossible to find a property in the city for less than Dh1,600 per sq ft. But these were not the cheapest villas in the community.

Gazelle Al Reem properties were available for upwards of Dh448,888 ranging in size from 1,691sq ft to 3,060sq ft. These villas now sell in excess of Dh3 million, representing a huge return on investment for those who bought five years ago. The added incentive of zero per cent down payments added to their appeal.

Built on a 1,650 acre site, the first villas were ready in June 2004. The project consists of 10 communities each with its own theme.

Arabian Ranches is located on Emirates Road next to Dubai Autodrome, which is a great attraction in itself as it not only has race days open to the public, but hosts professional races and houses the Kartdrome, which is great for children and adults like.

The complex has also played host to a number of music concerts, negating the need for local residents to sit in traffic for hours for an evening with the stars.

Just like The Springs, Arabian Ranches was launched further inland than any standalone project of its kind at the time. While this attracted some residents as it guaranteed peace, it is no longer viewed as a desert community. Thanks to Dubailand, the Ranches will be ideally located in the heart of New Dubai, just minutes away from Jumeirah Village and Dubai Sports City when the stadiums are completed and play host to international events.

A number of other developments such as Motor City and Mizin around the Ranches will cement its ideal location in the emirate.

A new fly-over giving direct access to Al Barsha along Umm Suqeim Street has also made the lives of residents better because they no longer have to sit in traffic waiting to go round the infamous Ranches Roundabout.

Back in the development itself, the 4,172 residential units are filled with people of all nationalities, ages and careers. It has particular appeal for families because the gated communities provide safe areas for children to play. There are also a number of swimming pools on site as well as designated play areas. Security guards on duty 24 hours a day monitoring people coming and going also help to make the development safer.

Jumeirah English Speaking School is located close to the main entrance, meaning children have easy access to the school and do not need to change schools once they reach 11 as it introduced a phased programme a couple of years ago, adding a new year as the eldest children progressed.

The development is also popular with adults for its on-site golf course. The Arabian Ranches Golf Club, situated in the middle of the development, spans 247 acres. The par 72 Ian Baker-Finch and Nicklaus Design course also has a golf academy, floodlit driving range and par three putting green under construction.

There is also a community centre with restaurants and shops as well as a supermarket, which is a vital resource for residents whose next closest grocery store is at Mall of the Emirates.

-A selection of properties on the market in Arabian Ranches are being opened to the public tomorrow from 10am until noon. For more information contact info@dubailuxuryhomes.com or call 04 3039 300.


'More choice than other developments'

Stephanie Price-Whittle bought a three-bedroom Al Reem villa in Arabian Ranches last June after leaving Jebel Ali Village.

The 35-year-old Briton and her husband paid Dh3 million for the property, which is now worth Dh3.8m having peaked in October at Dh4.2m.

She says: "We had very, very good rent in Jebel Ali but it didn't make sense for us to keep renting so we bit the bullet and decided to buy.

"We also looked at The Springs but prefer Arabian Ranches for its different housing styles and the fact the clusters feel like separate communities.

"Being further out also suited us because there is no traffic getting to work and we don't like being in the thick of things."

The only downside, says Price-Whittle who works for Dubai Government, is that there are only limited amenities close by.

"We have a supermarket but it's over-priced and the quality is not good so I find myself going to The Springs a lot," she says.

"I'd also like to see more every-day shops in the community centre."
Follow Emirates 24|7 on Google News.