Is Obama the new saviour?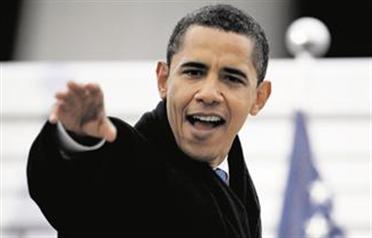 Tim, surely with the advent of a new president in the United States, we cannot see the financial markets get any worse. What is your prognosis and good news, if any, since I need my portfolio to look better than it is now. Your views would be much appreciated. Yaseen

We are all pinning a lot of hope on Obama restoring stability not only in the financial markets but in all facets of his office. Despite his assertion that there is "only one president at a time", Obama hit the ground running after his November election win, and has moved quickly to put the tools in place for swift action on the economy.

The Democratic Party recently unveiled its much-anticipated $825 billion (Dh3.03 trillion) stimulus plan, a package of tax cuts and public spending designed to stem the economic slide and kickstart growth. Obama said the plan, which he is keen to see passed before Congress goes into recess in mid-February, aims to save or create up to four million jobs.

In addition, Obama has successfully lobbied Congress for the release of the second half of the $700bn set aside by the Troubled Asset Relief Program (TARP), avoiding a potentially messy battle in the first few weeks of his administration.

Lawmakers criticised the Bush administration's use of the first half of the funds, citing the lack of transparency and lack of conditions attached to bank aid, but Obama's team have provided assurances that these concerns will be addressed.

The "who's who" list of choices to fill key positions in Obama's cabinet has also won positive marks. Among the appointments are Hillary Clinton as Secretary of State and Timothy Geithner, the former president and CEO of the New York Federal Reserve, as Treasury Secretary. Other economic hard-hitters in the team include Lawrence Summers, former treasury secretary in Bill Clinton's administration, and Paul Volcker, a former Fed chairman.

For investors considering increasing exposure, all these may be good news. Valuations are becoming extremely attractive by many measures but for a sustainable equity rally, investor sentiment undoubtedly needs to improve.

While it is difficult, if not impossible, to predict when the economy will begin to stabilise and eventually grow, it is worth remembering that markets typically recover well ahead of the economy. Many economists and market strategists are also predicting the US will be the first economy to recover due to the speed and extent of the actions taken by US authorities relative to the rest of the world.

Moreover, the US equity market has historically generated strong returns after downturns – for example, following a 38 per cent decline between 2000 and 2002 after the dotcom bubble burst, the S&P 500 returned 83 per cent from 2003 to 2007. And this is not an isolated case: after falling 65 per cent from 1929 to 1932 due to the Great Depression, the S&P 500 returned 190 per cent between 1933 and 1936.

Yaseen, all things considered, lets hope your portfolio starts to look better soon and if you have the capital now then you are looking at one of the best opportunities in recent history in which to invest. Do not succumb to the fatal error that many investors make; buying high and selling low.
Follow Emirates 24|7 on Google News.