It's payback time for your plastic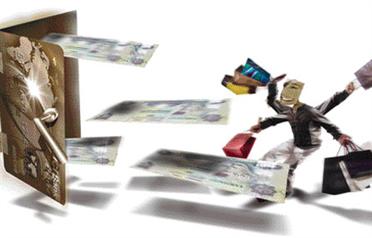 If earning money through spending sounds like a dream come true, UAE banks and institutions are successfully fulfilling this fantasy with their "cash- back" credit card schemes. The financial benefit for cardholders ensures they can earn back a percentage of their purchases – in some cases as high as 10 per cent – and stretch their spending power.

"Clients in this region already have a strong appetite for value added cards," says Karim Beg, Head of Consumer Finance and Marketing at the Royal Bank of Scotland, UAE, referring to rewards cards that chalk up air miles or points with your spending.

"If the payment method itself offers additional benefits like cash rebates then, in this economic climate, it is going to increase peoples' purchasing power."

The growing number of similarly branded credit cards is indicative of the fact that banks are seeking out various untapped areas of the market.

For retail banks this has also meant developing brand loyalty in a climate of cautious consumers.

"In this market, clients are looking for more than just payment solutions when they choose to pay with credit cards. They want to have a card with additional benefits," says Beg.

"Providing this added value is just as important as the card itself and the benefit for the bank is that we are able to develop meaningful relationships with our clients and brand loyalty by offering the right benefits to the right customers," he adds.

Dubai First, another strong player in the field, says cash-back cards account for about 30 per cent of credit cards issued by the bank. "This is a substantial share given that the concept was only launched in the first quarter of 2008," says Ibrahim Al Ansari, CEO of Dubai First, who adds that his company's MasterCard offers the lowest cash-back earning threshold in the market.

Meeting the needs of individual customers, each competitive bank is placing itself ahead in the rat race with special incentive cards.

Classic and Gold MasterCards at Dubai First for instance, get up to four per cent cash back on purchases, which, according to the CEO, is one of the highest cash back offerings in the region.

"Over and above the cash back offering, both cards offer a range of financial and non-financial benefits that bring convenience and a hassle-free usage experience for our customers," he adds.

While Classic cardholders can start earning cash back when they spend as little as Dh500 per month, the card also gives customers offers for specific purchases such as utility bill payments and foreign exchange transactions.

The rebate amount collected is recorded in the monthly statement and can be redeemed – either entirely or in parts – once it reaches Dh100.

"Cash-back credit cards are popular all the time as they provide maximum value," says Al Ansari.

"Each card product is popular among the customer demographic that it services, and so our role is to ensure that the benefits and rewards are in line with our customers' expectations and needs."

Meanwhile, RBS is going for gold with its Smart Traveller Classic and the Gold Card, each allowing frequent travellers to earn up to 10 per cent cash back towards travel costs with select agents.

RBS says it doesn't use "confusing tier levels" to credit the cash back. On the Smart Traveller card, customers receive the money directly on their card account within 24 hours.

Representative Beg says no annual fee is attached with RBS's cash- back cards.

"Our interest rates are competitive in the market," he says.

The bank's new Weekend Card offers one per cent cash back on every single purchase made on the card, and double cash back on spend during the weekend. Its cardholders also receive discounts and offers from entertainment and restaurant venues such as Trader Vic's, Da Gamas, Lucianos, Mirchi, St Maxim's and Ushna, as well as free movies, free entrance to Wild Wadi and Ski Dubai. With the Weekend Card, a customer's account is credited in the next statement.

As retail banks respond to customers' demands for more bang for their buck, some are partnering up with various corporations to offer cash back on a more extensive range of services and purchases. First Gulf Bank is teaming up with gas companies for rebate on fuel charges, while Mashreq's Etisalat card offers customers talk time equivalent to cash back of up to two per cent on card spending.

The latter offers cardholders an automatic enrollment into the 'More' loyalty programme that earns them points on mobile spending, which are redeemable for talk time with the telecom operator.

The bank says 100 points translate into Dh1 worth of Talk Time and customers also earn one 'more' point for every Dh1 spent on mobile usage. The points are transferred to an account where they can be redeemed for free talk time by calling Etisalat.

Vimal Kumar, Cards Business Head at Mashreq, says: "Unlike other cash-back cards in the market, which are conditional and confusing and do not offer real value back to customers, we reward customers with up to 12,000 bonus 'more' points for first usage worth Dh120 worth of talk time."

Cardholders can redeem their points once they've reached 2,500 points, which translates into Dh25 worth of talk time.

"This, coupled with absolutely no blackout periods for redemption gives the customer the opportunity to instantly redeem his Talk Time literally anytime, anywhere," Kumar says.

He adds that cash back in terms of talk time is also unconditional, and not based on any minimum spend threshold for the customer to be eligible.

In the long run though, some analysts fear such incentives could encourage irresponsible plastic purchasing, however, Beg doesn't seem to think so.

He says: "I think the trend will lean towards using a credit card responsibly for day-to-day purchases rather than for bigger ticket items."
Follow Emirates 24|7 on Google News.