Matchbox living just got smaller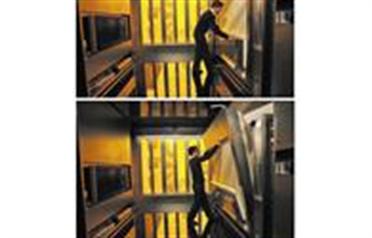 As a youngster living in a tiny flat with six others in one of the world's most densely populated cities, Hong Kong architect Gary Chang has been obsessed by living space, or rather a chronic lack of it.

After three decades in the same boxy, 32-square-metre (344 sq ft) dwelling he grew up in, Chang has come up with an innovative answer to the increasingly cramped lives of urban dwellers – the science fiction-like "domestic transformer".

"The idea is everything is moving. This is my laundry space," Chang said, sliding away a wall filled with CDs to reveal a washing machine and dryer. By sliding another track-mounted metal wall bearing a plasma TV and a kitchen materialised. Beside that, there is a luxurious 1.9-metre bathtub that turns into a guest bed.

While people in other teeming cities such as Tokyo resort to drop-down beds and foldable futons, award-winning Chang has taken the concept of space-saving to the extreme.

His tiny rectangular apartment, tucked into the bowels of an old, nondescript tenement building, has polished chrome walls that bear 24 configurations, each suiting a specific need.

The space available becomes a home theatre, spa, kitchen, bedroom or chill-out zone with hammock, depending on what Chang needs at any moment.

"The high intensity of use makes it more like a large home appliance than a dwelling," wrote Chang in his book 32 metre square apartment – a 30-year transformation that chronicles the origins of his innovative abode, which has undergone numerous facelifts through the years.

Chang, who runs his own design and architectural firm, describes an empty space as a "luxury" and once built a "Suitcase House" in Beijing blurring the boundaries between public and private space.

"The only enclosed space is the toilet, and again, it's bigger than usual," said Chang, whose flat is surrounded by the highways and skyscrapers.

At a cost of HK$1.8 million (Dh850,856), Chang hopes his dwelling offers a viable, life-enhancing alternative for Hong Kongers who can't afford anything bigger.
Keep up with the latest business news from the region with the Emirates Business 24|7 daily newsletter. To subscribe to the newsletter, please click here.
Follow Emirates 24|7 on Google News.