Oasis community rises in value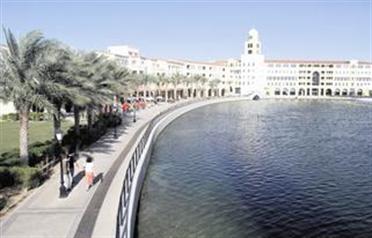 Properties in The Green Community have tripled in value since they launched six years ago.

The oasis community has also bucked the recent trend of falling prices towards the end of last year, with apartments and villas selling for an average of Dh1,500 per sq ft in the final quarter – the same as Q3 but Dh500 more than the first six months of 2008.

Luxury villas in the first phase sold for Dh2.25 million in 2003, which equates to Dh321 per sq ft. Now, villas are on the market for Dh551 to Dh924 per sq ft, according to data from real estate agency Hamptons International.

Apartments, meanwhile, have also followed the trend with three-bedroom units selling for Dh900,000 at launch or Dh383 per sq ft, says developer Properties Investments (PI) compared to between Dh1,072 and Dh1,287 today, giving early residents fantastic returns on their money.

Estate agents and property management firms have also praised the area for the quality of products and aesthetic appeal. A spokesman from Asteco said: "The Green Community is a very good product that has been well developed in terms of finishings, facilities and sizes and the lush greenery gives a heightened a community feel to it."

The firm also said that when launched properties were in such great demand there was a long waiting list of prospective buyers.

Located off Emirates Road next to Dubai Investments Park, The Green Community is a 67-hectare mixed-use development. It was the first project by Union Properties (UP) – which has gone on to build Motor City and Uptown Mirdiff – and comprises 719 residential units, including luxury villas, townhouses and apartments. The area has also been fully landscaped and a lake built to enhance its appeal. Its initial success sparked UP to build Green Community West in DIP.

"It is a very well-designed project, we believe that Green Community has its own charm and will attract residents who like to stay away from the bustling city life," said a Hamptons International spokesman.

Although the development is one of the furthest from the hub of Dubai, when built it was easier to access than other areas but as traffic has built up, so too have some problems as residents often complain of long queues to get in and out. The Roads and Transport Authority created a slip road giving direct access and plans to build an interchange adjacent to the entrance, which should help ease the situation.

It is particularly popular with people working in Jebel Ali as the free zone is just 10 minutes away, while those who work in DIP are at their desks in no time. The announcement of Dubai World Central with Al Maktoum International Airport nearby could further boost its appeal as it will also be just a short drive away.

Properties are split into gated communities with security guards monitoring visitors giving residents an added feeling of security, while The Market, houses a large supermarket and various other shops, cafes and restaurants. The on-site Courtyard by Marriott hotel also provides residents with a nightlife option on their doorstep. It opens out onto a lake at the back with other restaurants dotted around the walkway, which Lesley Sayle, Director of PI, says adds to its appeal.

"The Green Community prides itself on its modern and beautiful surroundings with natural greenery being key to the development's tranquillity," she says.

"Residents at this development experience a way of life amid landscaped gardens, cobbled streets and a relatively traffic free environment within a secure community. The Green Community also has an advantage of its location in Dubai Investments Park, away from the hustle of the city and at the same time close to Jebel Ali and the upcoming new international airport."

Although it seems a long way out of town, with projects such as Dubai Sports City being built nearby residents are ideally placed to access the facilities, while Ibn Battuta Mall and Mall of the Emirates are not far away for other needs.


Profitable investment

Nick Hopwood has lived in The Green Commun-ity for five years and likes it so much he has bought more than one property.

The 47-year-old general manager of an insurance company first bought a townhouse on a rent-to-buy scheme. After three years he received the majority of his rent back and bought it at the original price.

"A friend first suggested the area to me," he says. "Properties were a fantastic price. I paid Dh1.3 million and sold it a month later for Dh3.3m."

He now lives in a four-bed terrace apartment and owns a five-bed villa, which he rents out for Dh350,000 a year. Although he has made wise investments, he says the annual property service charges of Dh23,000 for the apartment and Dh38,000 for the villa – and Dewa's fees – Dh7,000 for the apartment and Dh12,000 for the villa excluding usage are high. "The fees are exorbitant," he adds.

Hopwood has also been a victim of the fall in property prices and now regrets turning down Dh7.2m for his villa last August – it's now worth Dh4m – but thinks rents will also fall.

"If rents don't drop further there will be empty properties," he says. "They are silly now, especially when I paid Dh35,000 10 years ago."

But despite this, he remains happy in the area. "Moving here was a cost thing because villas were cheap and there was no traffic," he says. "But now there's a supermarket and places to eat and if I want anything else, Mall of the Emirates isn't far."
Follow Emirates 24|7 on Google News.