Prime numbers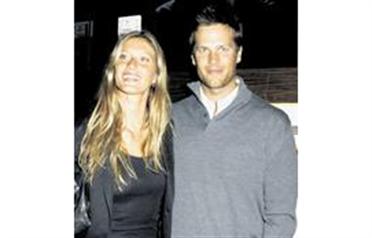 $6.5M

GLAMOROUS COUPLE 

While the Golden Globes distracted much of the world's celebrity media, Fergie and Josh Duhamel tied the knot in a fabulous Malibu ceremony rumoured to have cost the couple $1.5m (Dh5.5m).

Plus, according to E! News, Fergie was loaned $5 million in diamond jewellery to add sparkle to her Dolce & Gabbana wedding gown.

$450
MMM... STEAK
With the credit crunch, Michael Jordan's got to make some money somehow, so the basketball legend has released a new line of, erm, steaks.

For $450 (Dh1650), you can buy a special which includes meat and sauces.

Whatever's next? A self-help book written by Britney Spears?

£3,000

BORDERING ON THE RIDICULOUS 

The footballing world and international media was left outraged when it was revealed Seville striker Frédéric Kanouté was fined by the Spanish FA for "revealing a message of political nature during play".

Last week, Kanouté celebrated a goal against Deportivo La Coruña, by lifting his jersey to reveal a T-shirt that read "Palestine". The former Tottenham Hotspur striker was fined just under £3,000 (Dh16,000).

$45M

NEW POWER COUPLE 

Following news supermodel Gisele Bundchen and New England Patriots quarterback Tom Brady are engaged, Forbes magazine has predicted the duo will vault toward the top of its celebrity "power couples" ratings.

Forbes Editor Matthew Miller said: "Gisele makes about $35m a year, and Tom Brady made $9m last year. Put it together, they're worth $45m (Dh165m) a year, making them in the top five earning celebrity couples."

$120K

SOMEONE GETS A PAY RISE 

The cast of How I Met Your Mother is getting a well-earned raise. Five key main actors now earn between $90,000 and $120,000 per show.
Follow Emirates 24|7 on Google News.