Real-life rags to riches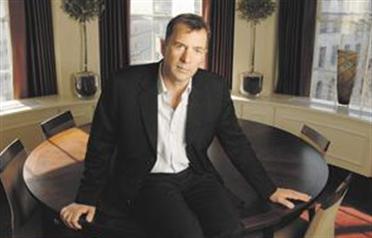 Fitness tycoon Duncan Bannatyne OBE is probably better known for his role on the BBC series Dragon's Den. But the entrepreneur, who has seen poverty as a child and the inside of a military detention centre as a young man, is a serial entrepreneur who owns a chain of health clubs and hotels.

What was your first salary? I cannot remember, it was 44 years ago. I worked for six weeks as a kitchen cabinet maker in my native Clydebank, so it would not have been much.

What was your best financial move? Floating my company Quality Care Homes on the stock market. I set it up in 1987 and five years later raised £5 million (Dh25m) on the stock exchange to expand. Five years after that I sold it for £46m.

And your worst? Buying shares in the company Lady In Leisure. I lost £1.04m when it went bankrupt.

How much are you worth now? My net worth is £310m. It all started just after I bought my first home. I left my job in a bakery and bought an ice-cream van for £450. Before long, I had half-dozen vans and a turnover of £350,000 a year. I sold the business for £28,000 and then started investing in residential care homes. Before I started, I also worked as a barman, deck-chair attendant and worked in the Navy.

What did you pay for your first home? I bought it for £12,000 in 1981. It was a three-bedroom semi in Stockton-on-Tees in north England. I took out a £10,000 mortgage. I can't remember what I sold it for, but it's probably worth £250,000 now. I own three properties – my family home in the North-East; a villa in Mougins, near Cannes, France; and a flat in London's Covent Garden.

Do you prefer using a credit card or cash? Card because it is easier than carrying loads of cash. But I do carry some notes so that I can tip well when I am out. I always tip in cash and give £10 or £20 as a thank you to taxi drivers.

How many credit cards do you have in your wallet? Four. One is a company card which I use only for business. The others are personal and I have held the same ones for a few years. I pay them off every month by direct debit so as not to get caught into paying interest to the banks.

What's the biggest tip you've ever given? I always leave a good tip in cash, so it goes to the people who served me rather than pooled by the company. I tipped £100 in The Ivy restaurant in London recently – it was great as the service was so good.

The most expensive present you have ever given? That would be jewellery for my wife. I choose it myself and the most I have spent at a time is £20,000. I tend to spend £10,000 to £20,000 a time on presents for her.

What about retirement? I don't worry about money and retirement. Not just because I have money but because I don't want to retire. I love my life and what I am doing.

What charities do you support? My own charitable trust, Bannatyne Charitable Fund. Through Scottish International Relief, I support an orphanage in Romania and 20,000 children in four schools in Malawi. I set up my trust with the help of the Charities Aid Foundation.


CV

Duncan Bannatyne

Age: 59

Sources of Income: Bannatyne, whose estimated net worth is £310 million according to The Sunday Times Rich List, began his career with an ice cream van bought for £450. He eventually sold the business for £28,000, and has run several businesses, including Quality Care Homes (sold for £46m in 1996) and nursery chain Just Learning (sold for £22m). He has six children and is married for the second time.
Follow Emirates 24|7 on Google News.