The ultimate bachelor pad for the stylish man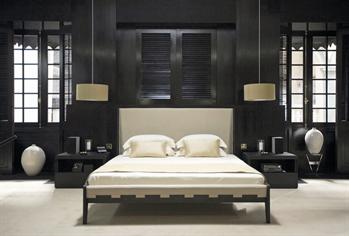 There's a little of James Bond in every man – and even if you're not up to performing his death-defying stunts you can still imitate his stylish ways in your home.

Quantum Of Solace may be action-packed, but there are still plenty of enviably glamorous interiors to sigh over.

British interior designer Stephen Ryan, whose glittering celebrity client list includes Hollywood A-listers like Michael Douglas and Catherine Zeta-Jones, has created many homes with macho appeal.

"Highly successful men who live fast-lane lives want their homes to be escapist, intimate sanctuaries where they feel instantly relaxed," he says.

"Their rooms need to have a warm feel with dark colours, rich grained woods and luxury textures, maybe leather, suede, and faux fur. These are places where no expense is spared but the look is under-stated rather than showy."

He predicts that the clichéd black and chrome look for bachelor pads is finished – and the new trend is for a more retro, decorative style using deep shades of chocolate with metallics such as bronzes and matt golds.

Rest assured however that the 'wow' factor is still an essential ingredient for any successful home.

"One style for bedrooms is a padded cell effect, where walls are covered in panels upholstered in velvet, leather or even pleated silk, and there is high-octane glamorous lighting in lustrous metals.

"If the bed is lit from beneath so it appears to float in the room, it becomes a stunning focal point."

It's clear that Ryan's clients live in another world when he describes a similarly dramatic setting he designed for a VIP client.

"We created a massive dining area, with two rows of pillars, clad in stainless steel, to define the eating area," he says.

"The walls were upholstered in gun metal grey velvet, and the matching curtains had tie backs made from chains and padlocks.
A see-through perspex dining table lit from beneath was the focal point."

Don't despair if your bachelor pad doesn't quite live up to Bond's high standards. We've been on a mission to track down his super style – so you too can live the life of the ultimate man about town, whether you work in DIFC or run your own company.

Live and let buy 

Lean, mean and moody has to be the look for a Bond-style living space.

"Dark wood panelling and furniture in a richly grained wood such as macassar ebony helps conjure a space with a moody, luxurious and instantly relaxing atmosphere," Ryan says. "Retro 60s and 70s furniture such as space-age Pod chairs are back in vogue.

Leather or ponyskin floors are sensual and indulgent, while a woollen carpet threaded with copper or lurex so it shimmers and catches the light in the evening can be effective."

Create atmosphere with black patterned wallpaper from The One. Call: 04 345 6687

- Splurge Lounge in the Ischia armchair, which features in the latest Bond film Quantum Of Solace.

It's a high-backed wing chair with stainless steel legs, upholstered in a deep blue velvet fabric by Manuel Canovas. It's £2,750 (Dh14,351) from The General Trading Store, London. Order online at www.generaltradingcompany.co.uk

Study Quantum Of Solace and you will notice the functional, slim Max writing desk in oak, pictured right, by Maxalto for B&B Italia. Price on application from B&B Italia. Call: 04 409 9000

- Spend A desk is essential for any businessman. Get spy style on a budget with a Cross base swivel armchair in mocha from Dwell.

Dwell, now open at The Dubai Mall. Call: 04 362 7500, www.thedubaimall.com

For your eyes only 

Seduction's second nature to Bond and it's vital to get the bedroom's romantic ingredients just right.

"This room should have a club atmosphere," Ryan says.

"One bedroom we created for a Russian client had an illuminated glass bedroom floor, a massive bed dressed in fur throws and a huge velvet headboard."

- Splurge In the film Bond entertains glamorous Agent Fields, played by Gemma Arterton, on an elegant, contemporary Talamo bed from the AC collection.

The oak designed bed by Italian Antoni Citterio for B&B Italia, starts from Dh19,000. Telephone: 04 409 9000

- Spend Lie back and watch old Bond movies on the luxury Monroe upholstered leather bedstead, which cunningly incorporates a retractable TV at the footend.

It starts from Dh12,495 (or from Dh4,000 without the TV) from Marks & Spencer. Call: 04 2066466

Bedtime stories 

Find the perfect bedside companions for holding your accessories such as a Blackberry, iPod, wallet and your bedtime reading. Box-shaped Hypnos bedside tables with an open shelf – handy for popping cuff links on – feature in the film.

They start from Dh8,000 from the Maxalto Simplice collection for B&B Italia.

A Royale kitchen 

These days, businessmen with money to burn want their kitchens to be as flash as their sports car. Those who like raising the heat on the hob, as well as on the road, could rev up in kitchens inspired by the styles of those high status luxury automobiles.

- Splurge Poggenpohl's teamed up with Porsche to create a kitchen with an aluminium chassis, finger-tip control doors, and an onboard entertainment system. Visit www.poggenpohl.de

The Italian Integra kitchen for Pedini, created by Tonino Lamborghini, features the trademark curves, leather panelling and the logo.

- Spend A high gloss black lacquer kitchen, teamed with a pale olive wood worktop, is handsome enough to appeal to a male who wants to keep the bank balance out of the red. Units with doors available from Ikea.

Bond's toys 

Don't neglect the essential gadgets and gizmos of the ultimate bachelor pad.

A stylish centrepiece Bedside Gun Lamp, designed by Phillippe Starck will be a real talking point. A similar golden revolver lamp base with black shade is available at Singways in Mall of the Emirates and JBR. For details call 04 3409 116.

View the latest action blockbuster on a limited edition television set with crystals at www.swarovski.com. Alternatively, install a full home entertainment system from Archi Media, 04 3370181 or Dubai Audio Centre, 04 3431441.
Follow Emirates 24|7 on Google News.