Wash away those worries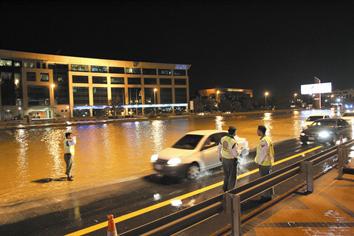 Tim, I am worried about the poor sewerage system that prevails here coupled with the recent rainfall – how can the drainage system cope? That said, what would happen to my property should it all go horribly wrong. I have a warehouse and business premises, not to mention my landed property, which could all be at risk from this pungent problem. Sonja

There is the keyword; risk. As I say to all my clients, my job is to help manage the risks and to remind them of the pitfalls and the impact to their lives and business. Many hope for the best but at Globaleye we plan for the worst; a much better strategy, I suggest.

With the burgeoning expansion of Dubai, we have seen numerous stories about the straining sewerage system here, which could be further hampered by the rains returning with a vengeance. We do not normally associate Dubai with cloudy skies, torrential rain and thunder storms but that is exactly the freakish kind of weather the world experiences nowadays. This is not an article on global warming but a reminder that anything can happen and will when it comes to the forces of nature. And the resulting devastation can be catastrophic.

In simple terms, what you can do is get insurance. Spend a little to protect a lot. With the inclement weather in Dubai, it is time to protect your home and/or business.

For years, expatriates have failed to make any provision for this whereas it is often common practice in our own countries. Not only for the overall protection of the property against uncharacteristic weather and the results of flooding but to guard against crime. The old adages of "it never rains" and we live in a "crime free country" are no longer extant.

We all insure our cars, boats and lives (mostly!) but fail to protect one of our larger assets – the home/business. Typically, as tenants, we leave the insurance and maintenance of the building to our landlord. But we must not overlook the issues when events happen and how damages are going to be paid for.

For example, your landlord may be content to repair a broken A/C unit but he is unlikely to willingly compensate for the broken unit dripping water down the back of your TV. Who is going to pick up the tab if the sewage spills into your living room or spoils your stock? You would, in such a case, spend a lot of time with a lawyer trying to point the finger of blame if you have no protection in place. While we cannot extinguish the trauma an event like this can have, we can eliminate or mitigate the financial impact on life and business.

A comprehensive Home & Contents or Business cover will protect you against these eventualities. The keyword here is comprehensive since to identify all the things that could possibly go wrong are too exhaustive to list here. Obviously, the devil is in the detail and most insurance policies should be studied carefully to determine the exact level of cover they offer. We generally suggest that the larger insurers (ones that you have heard of is a good rule of thumb) will generally offer a comprehensive scope of protection.

Once you have fully investigated the quality of cover you're being offered, it is just as important to investigate the quality of the company providing the cover. How long have they been in operation, what is their claims service like and do they have sound financial backing?

Some of the more established companies can provide instant cover over the telephone if you are able to pay by credit card (you may even get a discount for purchasing your insurance this way).

Here are just a few of the areas one can expect to be compensated:

- Damage from floods, water leaks, earthquakes, fire, lightning, storm, malicious damage, riots, strikes and theft.

- Your contents are covered on a repair or replacement as new basis.

- Alternative accommodation arranged if your home is unfit to live in.

The list above gives an overview but remember the policy wording is imperative. Clarify any doubts with your broker or the insurance firm early on, there is no point doing this after the event.
Follow Emirates 24|7 on Google News.