48 hours in Beirut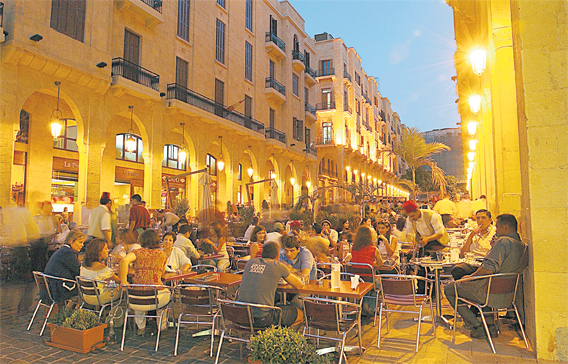 First day
9am: Check out Beirut's swish Downtown district, starting at Place d'Étoile – a part of town so stylish that even the clocks on the art deco tower in the middle are made by Rolex.
This is the heart of a massive restoration scheme being carried out by the Solidere company.
Ottoman and art deco buildings that were devastated during the 15-year Lebanese Civil War have been brought back to life and are being joined by grand new properties. Continuing concerns about Lebanon's stability mean that security is tight around here.
The country's parliament building is on the Place d'Étoile and all the roads leading to it are blocked off by red and white barriers manned by soldiers with rifles. However the presence of the soldiers – some will bid you good morning as you pass – is not oppressive.
Stand-out attractions in Downtown include restored Roman baths and the Mohammed Al Amin Mosque – like the Blue Mosque in Istanbul, only smaller.
11am: Stop off for a cup of coffee at one of the many street cafés and watch Beirut's impeccably dressed and groomed residents go by.
There's something about this city that makes you want to sip coffee all the time.
Continue your walk, marvelling at the number of mosques and other places of worship packed into the area. A shocking relic of the turbulent past is a statue on Place des Martyrs, built as a memorial to nationalists who were massacred during the First World War.
The statue was riddled with bullets during the civil war and an arm of one of the figures was blown off, and it has been left in this state as a reminder of the conflict.
1pm: Time for a spot of lunch. This being Beirut you'll be spoiled for choice, but if you fancy some authentic mezze then try Al Balad, or if you'd prefer fish then you can't do much better than Diwan Sultan Brahim.
2.30pm: Head off to the National Museum, which is packed with expertly presented artefacts dating back thousands of years. I particularly liked the Roman exhibits from the port city of Byblos – a superbly crafted statue of a figure in armour from the time of the Emperor Hadrian, for example, and two sarcophaguses that are plain apart from carved likenesses of the original occupants' heads and faces.
7pm until late: It's party time! Beirut is well known for its exuberant nightlife, and currently the hot place to go is Rue Gouraud in the Gemmayzeh district.
This long street leads away from Downtown and is lined with attractively aged buildings that provide an appealing contrast to those in the pristine rebuilt centre.
By day Rue Gouraud is quiet and has the air of a place that is sleeping off a particularly heavy night, with few signs of activity other than some cafés and shops. But after dark it springs into life, transforming itself into Beirut's party central as a host of restaurants and nightspots throw open their doors. The action starts to get going after 9pm.
Second day
10am: Once you've had a bit of a lie-in after your night on the town, you'll probably be up for a bit of light shopping.
There are plenty of options, all the smart names you'd expect and loads of choice – the Paul Smith shop, for example, has a particularly wide range of clothes and accessories.
The newest shopping destination is the sprawling Beirut Souks development, which makes a nice change from the usual malls you find across the region as you walk from shop to shop outdoors rather than inside an air-conditioned cocoon.
It's all very upmarket and is still being developed, and it stands on the site of Beirut's ancient souk.
For a complete contrast to the chain stores in the Beirut Souks and elsewhere, take a short taxi ride to Saifi Village, which has been transformed in recent years into an area known for its one-off fashion stores, shoe shops and chic art galleries.
1pm: With so many restaurants to choose from, you might be more comfortable with a name you know. If so, then head for the original Karam – which of course has spin-offs at the Mall of the Emirates and Dubai Mall – for more great Lebanese fare.
2.30pm: Downtown is impressive but some feel it's a bit over-sanitised, so for a taste of the "real" Beirut head away from the spruced-up centre and stroll through ordinary streets to see how the people of Beirut live.
In the east of the city, you'll see plenty of bullet-spattered buildings – more reminders of the civil war.
But the overwhelming impression is of a city that is getting on with life.
Alternatively you could head over to West Beirut and dive into the backstreets there, or go to the university districts of Hamra and Ras Beirut. Or stroll along the Corniche – a favourite pastime of the locals – and round things off with yet another coffee, this time at the cliff-top Bay Rock Café overlooking Pigeon Rocks.
These two monumental rocks jut up from the sea and erosion has turned one of them into an arch.
7pm onwards: In the 1960s, Beirut was a stylish holiday hotspot but the civil war and later troubles put an end to all that. Now the city is once more establishing a reputation as a top destination.
Central to this renaissance is the appearance of luxury hotels such as Le Gray, the Four Seasons and Rotana's Raouché Arjaan.
Indigo on the Roof at Le Gray is an excellent choice for dinner on your final night – exquisite meat and fish dishes are complemented by spectacular views across the city. Afterwards sample some more nightlife and round the evening off with a nargileh – the local name for shisha.
Essential guide
HOW TO GET THERE
Emirates (emirates.com) and flydubai (flydubai.com) operate daily flights from Dubai to Beirut, the Lebanese national flag-carrier Middle East Airlines (mea.com) has two flights a day and Malaysia Airlines flies non-stop three times a week – on Tuesdays, Fridays and Sundays.
You can also fly with AirArabia (airarabia.com) from Sharjah and Etihad Airways (etihad.com) from Abu Dhabi.
WHERE TO STAY
Le Gray – newly opened luxury boutique hotel in the heart of the rebuilt Downtown area.
Rates range from $500 a night (Dh1,835) for a deluxe room to $5,500 for the 220 sq m two-bedroom presidential suite.
Choice of restaurants and lounges, spa and rooftop infinity pool with great views. www.legray.com
Keep up with the latest business news from the region with the Emirates Business 24|7 daily newsletter. To subscribe to the newsletter, please click here.
Follow Emirates 24|7 on Google News.