Al Aqili eyes Dh430m sales this year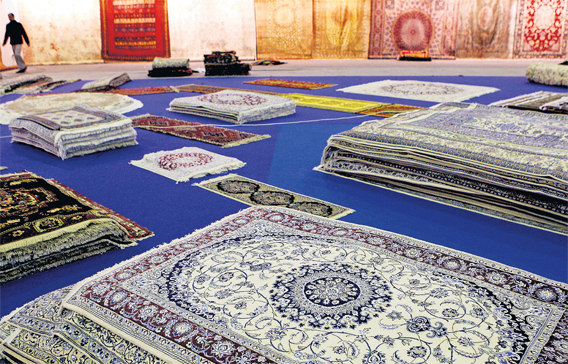 Given the right timing, Al Aqili Furnishings will consider an IPO and is expecting sales worth Dh430 million in 2010, says a senior official. "In 2009, we hit the Dh300m-mark in terms of sales. In 2010, we are looking at a reviewed and realistic figure of Dh430m. This will be a year of controlled investments of around Dh30m to Dh40m into property and assets," said Shahriar Khodjasteh, Group Marketing Director, Al Aqili Furnishings. He told Emirates Business that the company aims to touch the Dh1 billion-mark in five years.
A few years ago, you said you would invest Dh300m by 2009 with a target to open 30 showrooms by 2010. How far has that succeeded?
That was in relation to Rugland, one of our 12 divisions. But the ease of finding space was more difficult than anticipated and so far we have opened 10 showrooms. Besides, after the conditions that became apparent in end-2008, we are taking these plans a bit slower than usual. It is a good time to go back and evaluate the investments we make in terms of space, which was becoming more and more expensive.
It is true that rents have dropped but one of the biggest challenges we have is to find core space for our business in Abu Dhabi for the past 13 years. In 2008, the rents were extremely high and we were being asked rent for three years in advance. Today, the asking rate is Dh400 a sq ft. We are still looking for that flagship showroom space place in Abu Dhabi though we have an office there and are doing a significant amount of business.
So how many divisions do you have in the group?
We started with flooring, which is our core competence for the first seven years since 1999. In the past five to six years, we have diversified into other areas of interiors such as residential and office furniture, fabrics, lighting and so on. We now have 12 divisions and represent over 57 companies in those industries. The majority is still in our flooring division.
Do you focus equally on retail and turnkey contracts? How big are these two markets for you in 2010 as opposed to last year?
We have managed our relationships in these two areas very well. Our contract flooring business is a big part of our business but it is not a bigger focus than others. No tender is decided on the large contracts without us submitting our proposal. This is because of the brands we represent as well as the fact that we have the best installation team in the business. We do face new issues nowadays. Sometimes, projects specify products from Asia and we are asked to install them though we accept very rarely.
How do you deal with rain-related issues which are becoming an annual feature in the UAE? Especially in the flooring industry?
When this happens once a year, I get calls the very next day from business owners, managing directors and other running facilities that are in trouble. Our team observes the situation and analyses what to do. Wool carpets need to be picked up and dried since it will smell. With parquet, you have to remove the product in most cases and test the sub-floor for humidity in terms of installation.
Volatile organic compounds (VOCs) create sick building syndrome. How do you address these issues with your products?
We deal with a German company that regularly brings out new products and deals with VOC issues. We are also working with another company Shaw Industries, a Berkshire Hathaway company that has in place different certification processes. It manufactures carpets and the backing using recycled materials (the latter is made of plastic bottles). After five to 10 years of use, you can send it back to the company and it will pay you the shipping charges. This is not just green talk.
It is great that the UAE Government is trying to link permits for new buildings to green certifications. But such products are also more expensive and in a recession, it is more difficult for people to go down that avenue. However, there are still some design firms and organisations that stick to these products and this gives you hope for the green walk and not just talk.
Do you deal more with consultants and architects or get involved directly in the beginning?
We are at various stages. Many of the companies that we represent have international offices, which are epicentres for consultants or specifiers from those markets for many of the big projects in the UAE and the region. We also work with other specifiers regionally but that does not mean everything. In tenders, they put specifications or " near" or "similar" and that can change things.
Have you faced any issues when specifications change as construction progresses? Especially, since today everyone is retendering or value-engineering?
Yes. It is one of the challenges and profitability is at its lowest. In 2009, we did not hit the numbers we aimed. Today, we are facing a different style of payment such as staggered payments and so on and delays have gone by above 200 days. On the positive side, since we have been hurt, when we go in for projects today, we are strict and go for more secure forms of payments that involve guarantees. On a negative side, it can be one or two years.
What are your plans for 2010?
A lot of people think that we are crazy since we are still following our vision. In 2008 and 2009, we felt that things were going to be challenging and hence decided that our presence must be felt throughout the GCC. We thought that we should set up our own presence instead of going through dealers and partners. So we started in Doha in early 2009. In 2010, we will finalise Oman, Bahrain and Saudi Arabia. We are also doing a good level of business in Nigeria and Africa and have set up an aluminium manufacturing plant besides having a strong presence in Kuwait for years.
So are you looking at an IPO?
This discussion has crossed our boardroom table and we will not discount it. We will consider it at the right time. In the next five years, we are targeting to be a Dh1 billion company. But we would not rule out on an IPO.
Keep up with the latest business news from the region with the Emirates Business 24|7 daily newsletter. To subscribe to the newsletter, please click here.
Follow Emirates 24|7 on Google News.