Abu Dhabi to have new bus fare structure from Sunday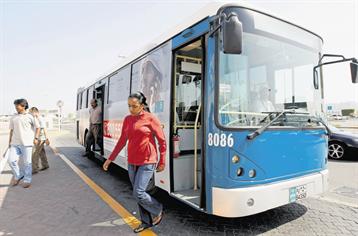 Commuters in the capital are to benefit from some of the world's cheapest bus fares, it was announced yesterday.

Abu Dhabi's Department of Transport (DoT) unveiled a charging structure called Ojra – fare in Arabic – which will be effective from February 15. Monthly and daily tickets will be available and the elderly and people with special needs will get free passes. A monthly ticket will cost Dh40 and a daily one Dh3 for unlimited travel within the city on the island. A single trip between any two points will cost just Dh1.

And the DoT is working with the municipality and other bodies on plans to introduce bus lanes.

The department is spending Dh2.45 billion on deploying 1,360 buses by 2010. The initiative is the first step towards providing a fully-integrated public transport system in the city of Abu Dhabi and reducing the reliance on taxis and private vehicles that create congestion and parking problems.

"We recently bought 500 new buses in addition to those already available," Bus Office General Manager Saeed Al Hameli told Emirates Business. "All these will begin operations by the year-end.

And shortly we will be announcing tenders for buying 860 more buses. By the end of 2010 we will have a total fleet of 1,360."

He said buses already acquired was on an order cost Dh1.8 million.

"However, it is difficult to give a figure for future purchases in the current economic conditions as we do not know what the prices will be. But we have a substantial budget for the purchase of new buses to expand our network and increase the frequency of services as demand increases."

"We are pleased to introduce the Ojra fare structure that has been developed after months of study. Ojra has been created with the goal of allowing quick boarding through any of the doors. This is expected to speed up bus movements by about 30 per cent.

"We believe the cost of Ojra tickets are reasonable and provide the best possible value for money. We hope this will encourage wider bus usage," Al Hameli said.

Tickets will be available initially from 22 outlets, including shopping malls, bus stations and kiosks. The system will be streamlined through the introduction of automated ticket machines and card swiping or punching system on buses.

"We will add more outlets and kiosks as the demand grows," he added.

The second phase of Ojra will involve the introduction of fare structures for networks outside Abu Dhabi city, suburban services and inter-city routes between Abu Dhabi, Al Ain and other destinations in Al Gharbia – formerly the Western Region – and the Eastern Region.

Al Hameli said the new buses would provide an attractive alternative to driving and finding a parking space as well as reducing traffic jams.

Commuters who left their cars at home would save on petrol and maintenance costs.

At present 120 local buses are running on nine routes within the city, and between six and 12 new routes will be added this month as more buses are delivered.

Al Hameli said he hoped the department would serve more than a million passengers a day by 2010.

"We have started privatising some of our services. We have privatised some Abu Dhabi and suburban services to ING Insurance, a local company, and services in Al Gharbia to Al Dhafra Insurance in order to create a stronger competitive atmosphere." He said the bus lane plan would help to ensure the smooth flow of the public transport system."It will be worked out in cooperation with various local departments involved in implementing the Plan Abu Dhabi 2030."
Follow Emirates 24|7 on Google News.