Air Arabia yearly profit up 36% to Dh510m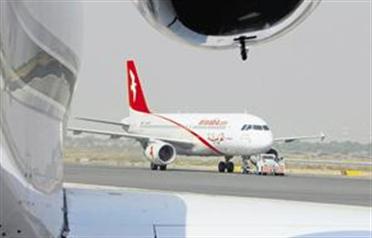 Budget carrier Air Arabia said yesterday its net profit for the fourth quarter 2008 increased 45.4 per cent to Dh136 million, compared to Dh93.5m in the fourth quarter of 2007, despite the financial downturn.

The Sharjah-based airline's annual net profit rose 36 per cent to Dh510m compared to Dh376m a year earlier. The company's annual turnover, meanwhile, went up by 61 per cent to Dh2.066 billion compared to the previous year, on new route launches and high load factor.

Air Arabia carried a total of 3.6 million passengers last year, an increase of 33 per cent over 2007, and launched seven destinations in 2008. During the fourth quarter alone, the airline served 959,067 passengers, an increase of 29 per cent compared to 745,000 passengers during the same period in 2007.

But while the airline's passenger average load factor stood at 85 per cent in 2008, Air Arabia's Chairman, Sheikh Abdullah bin Mohammad Al Thani, expressed concerns about the current year. "This year will see serious challenges to the worldwide aviation industry, driven by the impact of the global financial crisis and lower levels of consumer confidence. This uncertainty about the future will place additional pressure on the bottom lines and earnings expectations of airlines across the globe," he said.

Furthermore, Air Arabia's board of directors has proposed distributing a 10 per cent cash dividend to the company's shareholders.

"It allows them to share in Air Arabia's success while maintaining sufficient capital to ensure the implementation of the carrier's long-term growth strategy," Al Thani said.

Chief Executive Adel Ali had said last week the carrier, with $1 billion in cash, will seek some financing and is in talks with banks. He further said while Air Arabia was not hedged in 2009, it has hedged 60 per cent of its fuel needs for 2009.

Currently serving 44 destinations across the Middle East, North Africa, Indian Sub-continent, Eastern Europe and Central Asia, Air Arabia is gearing up to launch its new hub in Morocco by the end of first quarter of 2009.

Operating a fleet of 16 Airbus A320s at present, Air Arabia plans to add four more aircraft to its fleet this year, according to the airline's spokesperson, Housam Raydan.

"We average adding about four planes every year to our fleet. Besides, the airline placed an order with Airbus for 44 planes in November last year, the delivery of which is expected to start from mid-2010," he told Emirates Business.
Follow Emirates 24|7 on Google News.