Airbus sees no cancellations from Mideast despite slowdown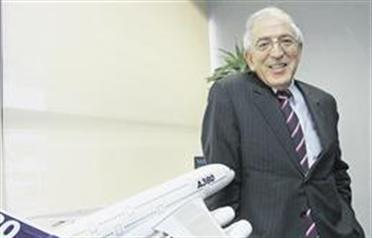 Even as airlines across the world are cutting capacities to tackle economic slowdown, European planemaker, Airbus, does not anticipate aircraft order cancellations from the Middle East airlines.

"So far, Airbus has received no cancellations this year from Middle East carriers for previous airplane purchases. And there is no hint for cancellations as of now. All our orders for late-2008 and early-2009 have been delivered," Habib Fekih, Airbus Middle East President, said yesterday on the sidelines of a Middle East Economic Digest conference on airport projects. Asked if Emirates was likely to cancel orders for some of its 58 Airbus A380s considering the airline would be launching fewer new routes this year, Fekih told Emirates Business: "No, that will not happen."

"The only small risk is of leasing companies. They may have problems placing their aircraft. But none have indicated any cancellations as yet," Fekih said.

Airbus expects new orders to fall to between 300 and 400 this year, Fekih said. "We will review the orders by June after seeing how the economic crisis will evolve," he said.

Earlier this month, Dubai-based aircraft leasing firm LCAL cut down its order for Boeing 787 Dreamliner aircraft to five plans from 21 due to the global economic crisis.

Meanwhile, Airbus' near-term backlog (2009-2011) for the Middle East rests at seven per cent deliveries from 18 airlines, according to Fekih.

"Over next few years, Airbus will deliver to an average 85 airlines and 12 lessors per year," he said.
"Almost 50 airports will see Airbus A380 operations by 2012," he added.
 

Financing Challenges

After being granted €5 billion (Dh26.6bn) aid from the French Government last month to support airplane purchases, Airbus expects other European countries such as Germany and Britain to follow, according to Airbus Middle East President, Habib Fekih.

"It is not enough. We are expecting some other governments to put similar packages together. I think Germany will follow France, but Britain I don't know," Fekih said.

The French aid is aimed at helping airlines that are finding it difficult to cough up financing for aircraft purchases from Airbus.

"Financing is still a big challenge for Airbus, and nobody neglects that aspect. We have been proactive in seeking more support from credit agencies," he added.

Germany, meanwhile, was considering steps like France to help Airbus customers gain access to bank credit for aircraft buying.
Follow Emirates 24|7 on Google News.