Airlines to earn $58bn in ancillary revenues in 2010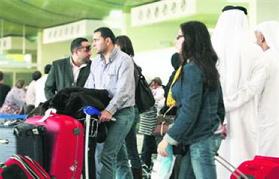 In times of declining revenues owing to global slowdown, airlines are increasingly focus on alternative revenue streams, or ancillary revenues, as they are known in the aviation world.

Airlines worldwide are expected to generate $58 billion (Dh212.8bn) in ancillary revenues this year, in a move triggered primarily by the low-cost carriers segment, said a study by Capa (Centre for Asia Pacific Aviation).

As US-based consulting firm, IdeaWorks, defines ancillary revenue as "revenue beyond the sale of tickets that is generated by direct sales to passengers, or indirectly as a part of the travel experience".

And going by the IdeaWorks' definition, worldwide ancillary revenues totalled $10.3 million in 2008, a 346 per cent year-on-year increase from 2006 levels.

Typically, ancillary revenues for all airline types – budget and full service – include baggage, catering services and holiday divisions among others.

However, baggage fees are one of the fastest-growing items in a portfolio developed largely by low-cost carriers that also includes seat allocation, inflight services and products, related travel products (including insurance, car hire and accommodation), inflight advertising, airport lounges access and increasingly diverse opportunities, including concert tickets, mobile phone credits and more. Even though conventionally for the LCCs, ancillaries form a very small proportion of their total revenues, they try to make the most of their ancillary services.

A case in point is Dubai's own budget carrier, Flydubai. The airline said recently it would establish its foothold in the ancillary services in order to strengthen its revenue streams.

"We certainly realise the potential of the ancillary revenues and hope to extend into that market by providing holiday packages, insurance and other services," Flydubai's Chief Executive, Ghaith Al Ghaith, recently told Emirates Business, clarifying further that the airline plans to raise profit through ancillary services.

Yet another UAE airline – Etihad Airways – said it is contemplating to charge for the second piece of baggage in order to maximise its revenues. "As depressed yields continue to put pressure on airlines' bottom lines, we might consider such a move," the Abu Dhabi-based airline's CEO, James Hogan, recently told this newspaper.

He said: "A number of US and European airlines are charging passengers for the second piece of baggage. I expect to see a similar move by the Gulf carriers."

Clearly, the financial crisis and its impact on the airlines and travel sector overall, is forcing carriers into exploring alternative revenue streams.

A sizeable figure, $58bn, however, represents 12 per cent of total airline revenues.

This suggests the aviation industry is just at the start of the movement to monetise services and products passengers used to receive as part of the ticket price, according to the Capa report.

It adds that airfares around the world, particularly in the US, have fallen sharply since the onset of the recession, making baggage fees (and other ancillary revenue items) an increasing lifeline for the airline sector.

The US airlines alone are expected to smash through the "$4bn-barrier in 2010" in terms of baggage revenue generation.

But such charges, particularly in the US as network carriers adopt these strategies, have quickly become a flashpoint for airline differentiation and a catalyst for marketing innovation, the said. The movement is spreading to Europe, with British Airways, under considerable financial strain, one of the earlier movers after its US counterparts, said the report, adding that Asia Pacific adoption of ancillary revenue strategies, outside the LCC sector, has been much more cautious.


Global revenue

"Other revenues" are projected to account for more than 12 per cent of total worldwide airline revenues this year and next for the first time, according to Iata (International Air Transport Association), mainly as a result of weakness in passenger ticket and cargo revenues and the growth in ancillaries.

However, the Geneva-based global aviation trade body does not provide a definitional breakdown of this "other revenue" category, but it does exclude cargo revenues. Ancillary revenues are expected to continue to rise as a proportion of total revenue as airlines become increasingly sophisticated about these new revenue streams, according to the Capa study.


LCCs lead the way

Globally, ancillary revenues already account for greater than 15 per cent of total revenue at leading LCCs, including Allegiant, Ryanair and easyJet.

Unlike Southwest and JetBlue, most of the low-cost carriers outside the US are charging for checked baggage, with the fees accounting for significant proportions of their profits.

Allegiant was the largest ancillary revenue generator (as a percentage of total revenue) in 2008, followed by Ryanair, easyJet, Jet2.com and Vueling, according to Capa research.

In the second quarter of 2009, the leading LCCs had made further gains in their ancillary revenue drives.

Airline "merchandising", when done thoughtfully and supported through each of the airline sales channels can be good for carriers and their customers, said the report.

In the Asia Pacific region, for instance, the LCCs have exploited ancillary products while full service carriers are only beginning to dabble into the concept.

AirAsia CEO, Tony Fernandes, recently said that ancillary revenues support high profit margins and stable profits, as they are not seasonally sensitive. He was recently quoted as saying that ancillary revenue generation was a "very good buffer for the oil price".


Full service

Iata estimates that $80bn in revenues will vanish from member airline industry coffers this year, falling to $456bn, or 15 per cent lower than 2008 levels. But "other revenue" (that is non passenger/cargo) would grow by almost six per cent this year to $56bn worldwide, as per the Iata forecast for 2010.

"Other revenues" of the Iata members (which are largely non-LCC airlines) will, meanwhile, reach $58bn next year – double the level achieved in 2001.

"Full service carriers are today trying to re-build and differentiate their brands in order to compete strategically with the LCCs, while still providing the quality service, said Capa research.

It adds that for the LCC segment, the issue is one of adding unbundled services and charging for them.


Tougher booking

Cancelling and rebooking fees have increased significantly in Asia, along with booking classes that do not accrue mileage, as per the Capa research.

Revenue from fees imposed for cancelling or rebooking flights by all US airlines went up by 52 per cent in Q2 2009, while revenue from miscellaneous fees (including assigning seats, flying pets and fees paid to the airlines for collecting airport passenger facility charges) totalled $67m in the quarter, marking a 19 per cent rise year-on-year, Capa said.

Whereas, combined, baggage fees and additional charges increased 65 per cent year-on-year, to $3.6bn in the quarter.

As the US airlines rack up around $4bn in revenue from baggage fees alone this year, full service airlines around the world look on with interest, with many likely to follow suit shortly.
Keep up with the latest business news from the region with the Emirates Business 24|7 daily newsletter. To subscribe to the newsletter, please click here.
Follow Emirates 24|7 on Google News.