Asian airlines trim down for expected hard landing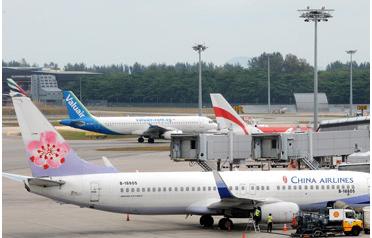 With most projections saying the world economy will worsen before it starts to recover, airline job cuts could come next, analysts said.
Carriers are also expected to seek alliances and other forms of cooperation to ride out the turbulence whipped up by a global financial storm that originated in the United States, the world's biggest economy, they added.
"It's going to get worse before it gets better... and airlines are making preparations to try to ride this out," Standard and Poor's aviation analyst Shukor Yusof told AFP.
Singapore Airlines (SIA), one of Asia's major carriers, has announced the suspension of some international flights affecting routes to India, Southeast Asia, the United States and Europe.
In a sign that even elite passengers are feeling the pinch, SIA's non-stop, all-business class service to New York and Los Angeles will be trimmed to 10 flights a week from 14.
"We don't want to be flying half-empty planes around the world any longer than we have to, because it increases our cost burden at a time when we can least afford that," said SIA spokesman Stephen Forshaw.
Japanese carriers Japan Airlines (JAL) and All Nippon Airways said they were slimming down by suspending or reducing flights and switching to smaller planes.
JAL, Asia's biggest airline, said it was decreasing flights from Tokyo to New York, Bangkok and Seoul beginning in late March. It will suspend services from the western city of Osaka to London.
JAL also plans to reduce the number of seats on other routes such as Tokyo to Sydney, Chicago and Los Angeles by introducing smaller aircraft.
All Nippon Airways, the country's second biggest carrier, said it would stop using jumbo 747s on flights from Tokyo to Paris and Frankfurt later this year. It would also introduce smaller planes between Tokyo and Washington.
"2009 is shaping up to be one of the toughest years for international aviation," International Air Transport Association (Iata) chief Giovanni Bisignani said in his latest assessment.
"Keep your seatbelts fastened and prepare for a bumpy ride and a hard landing."
The Asia-Pacific region was the industry's booming market in recent years but international passenger traffic carried by the region's airlines fell 9.7 per cent in December over the previous year, the sharpest decline in any region, Iata said.
Only carriers in Latin America and the Middle East saw an increase.
Asia-Pacific airlines, which account for 45 per cent of global cargo, also registered the steepest fall in freight traffic, a 26 per cent decline last month, said Iata, the industry's trade organisation.
This is worse than the 22.6 per cent fall in cargo traffic worldwide, the Iata figures showed.
"I'm expecting the inevitable – which is job cuts. It's looking more and more likely because of the degradation in the traffic numbers both for passengers and cargo," Yusof, of Standard and Poor's, said.
He said airlines would eventually have to deal with a surplus of wide-bodied aircraft made idle from a lack of passengers.
SIA has the option of selling, leasing or parking surplus planes, its spokesman said.
But SIA says it will push through with all its current orders, including 13 Airbus A380 superjumbos – the world's largest passenger plane – 18 A330s and 20 Boeing B787-9s, so that it can retire older aircraft.
In Australia, national airline Qantas grounded 10 aircraft and cancelled plans to lease two new planes in November. It halted all planned domestic growth for both Qantas and budget offshoot Jetstar.
Hong Kong carrier Cathay Pacific is also under severe pressure after passenger numbers dropped 0.3 per cent year-on-year in December despite an aggressive marketing campaign, following a 2.2 per cent drop in November.
Cathay Pacific's revenue manager Tom Owen said the airline had been forced to cut ticket prices to keep December figures respectable.
Cathay's cargo business has been hit even harder, dropping 23.9 per cent year-on-year in December. The firm has delayed a new cargo terminal at Hong Kong International Airport by two years.
Taiwan's two major carriers, China Airlines and Eva Airways, said recently introduced direct air links to mainland China had cushioned the impact of the economic slump.
"The 22 weekly flights to major mainland cities are very profitable," China Airlines senior vice president Roger Han said.
For those less fortunate, one option is consolidation, the Centre for Asia Pacific Aviation consultancy said in an analysis.
It predicted that full-service airlines and some low-cost carriers "will attempt to forge new relationships this year", ranging from operational mergers to full equity transactions.
But it warned that most such attempts are likely to fail because the industry is heavily regulated.
Follow Emirates 24|7 on Google News.
Asian airlines are cutting routes and taking other measures to avoid flying half-empty planes during a travel slump caused by the global economic crisis, analysts and industry players say.