Balancing capacity and demand a key challenge for Middle East airlines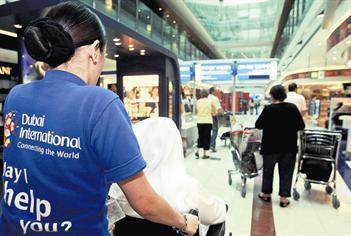 Having experienced a better 2009 than most other airlines across the world, one of the main challenges that the Middle Eastern airlines will have to tackle in 2010 is to draw a balance between capacity and demand.

In an exclusive interview with Emirates Business, Brian Pearce, Chief Economist at International Air Transport Association (Iata), talks about how 2010 would be a yet another promising year for the region's carriers. Excerpts:


What are your projections for the Middle East? Where do you see the region's airlines heading in terms of capacity and demand?

I am sure the aviation industry will continue to expand in the Middle East. And we are expecting traffic growth to continue in double-digit rates in 2010.

The regional airlines are well placed to benefit from the expansion we are seeing in Asia and Latin America, offering long-haul services. And with oil prices rising, traffic to the region is probably going to be in a reasonable shape.

What is your forecast for the Middle Eastern airlines' profitability in 2010? Emirates, for instance, posted profit despite the global financial crisis. Do you see that continuing this year?

I think Middle Eastern airlines are all relatively well placed. It is going to be airlines in the big developed markets of Europe and North America that are going to face the toughest business conditions. The Middle Eastern airlines, on their long-haul markets at least, can benefit from the growth we are seeing in Asia and Latin America.

Do you think liquidity is an issue with the region, as it is with the rest of the world, and financing new aircraft still remains a big challenge for Middle Eastern airlines?

Yes, it is. And certainly, the United States and European banks are probably not going to be back in the business in 2010 as their balance sheets are still not healthy. Though we have seen Ex-Im banks heavily providing finance for aircraft deliveries.

The manufacturers have not had to provide that back-stock finance that we thought they would. And we are seeing some banks from some other parts of the world, such as China, come in to the market.

So the credit crunch is starting to ease. But I am not sure that finance is going to be the biggest problem. There would be more of a problem with the health of the balance sheets of airlines hoping to take on these new aircraft.

Do you see Islamic financing playing a bigger role in aircraft financing in 2010?

Yes I do. There is a lot of innovation going on in finance. A lot of savings in Islamic countries need to be tapped. And Islamic finance is one way of getting those savings flowing into investments that will benefit the region in the long term.

What about ECA (export credit agencies)?

Financing remains a challenge for almost all the airlines across the globe. While we have managed to recover half the losses in air travel we incurred in 2008, banks are still short of capital and thus they are not lending. Consumers have large debts to clear.

As a result of this, the export credit agencies (ECA) will still need to be involved in 2010 in fulfilling airlines' financing needs to a significant degree.

Even though airlines' revenues are rising, they are far from being recovered. We, therefore, expect to see losses continuing in 2010. So, while there is fragile recovery, substantial risks remain, as 2009 quickly got much worse than expected.
There has been a lot of pressure on airfares and not just in this region. How do you see that changing this year?

We have actually seen fares falling more in the Middle East for economy-class travel. In the Middle East, we have seen decline of between 25 and 30 per cent in the first half of 2009 in average fares. The situation is picking up a little although load factors are relatively low for Mideastern airlines, whereas there has been a pick up elsewhere, which has led to some benefit in fares.

Does that mean yields will be an issue to deal with even in 2010?

I think yields are going to continue to be an issue for airlines in the Middle East, particularly with more capacity coming. It is going to be a challenge to maintain low costs in order to turn that growth into profit.

Do you see airfares dropping further this year in the Middle East?

I think there is always a continuing risk over fares and yields. The recovery in 2010 is not expected to be particularly strong. And there is a lot of capacity around. So there is certainly a risk. But if traffic is disappointing that capacity could drive yields low. So there is definitely going to be pressure on airfares in 2010.

What is the one main challenge you see airlines in the Middle East facing this year?

The biggest challenge will be to profitably fill the seats they are putting on the market because there is more capacity coming to the Middle Eastern airlines. And although their long-haul businesses put them in a good position, the big markets of Europe and North America are going to remain relatively weak in terms of passenger growth.

Consolidation seems to be the right thing to do for airlines today? Do you see the trend coming to the Middle East as well this year?

I do see airlines in the Middle East consolidating in some way this year. The industry in this region is still fairly young so there is still scope for new entrants. We have seen new entrants into the industry. But inevitably, particularly after the shock the aviation industry has been through with the recession for the last one-odd year, airlines will look to make their operations more efficient. And consolidation is one way of doing that.

I would not be surprised to see some consolidation taking place. But it is still a young industry and there is still probably scope for new entrants as well.
Keep up with the latest business news from the region with the Emirates Business 24|7 daily newsletter. To subscribe to the newsletter, please click here.
Follow Emirates 24|7 on Google News.