BMW meets target amid 5% revenue drop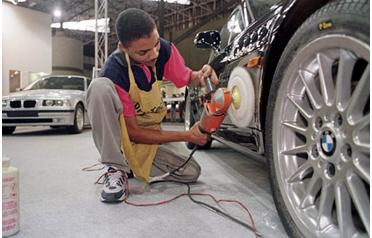 BMW's top line fell 5 per cent to €53.2 billion ($68.2 billion; Dh251 billion), in line with a Starmine SmartEstimate of €53.3 billion. Turnover at its core Automobile division dropped by 9.4 per cent to €48.78 billion, it said on Friday.
Demand for sporty models like the BMW Z4 roadster withered under the winter frost, forcing the company to reveal last month a decline of 4.3 per cent in group sales volumes last year – its first annual drop since 1993.
"Apart from the great reticence to purchase new vehicles, there were also no signs of stabilisation on the used car markets and consequently of residual values for vehicles coming out of leases," BMW said in a statement.
Total capital expenditure edged 1.5 per cent lower to €4.20 billion as an 8.2 per cent drop in capitalised development costs offset a slight gain in investments for property, plants and equipment.
The company cut its staffing levels by 7 per cent to 100,041 by the end of the year.
After initially forecasting in March an increase in pretax profit over an adjusted €3.78 billion in 2007, BMW proceeded to cut its target in August before scrapping it entirely in early November.
CREDIT BOOM
BMW said at the time it was "as good as impossible" to give a reliable guidance, merely pledging to ensure earnings before tax would remain clearly positive.
A spokesman for the company said its guidance referred to earnings before tax. Much like rival Mercedes-Benz of Daimler, BMW thrived from the debt-fuelled consumerism in markets like the United States where they aggressively pushed volumes for years with attractively priced leasing deals that cost the carmaker just over €1 billion through the end of September.
Analysts are re-evaluating whether the premium market's true potential may demand significantly lower volumes in the future, now that the worst excesses of easy credit have come to a screeching halt.
The crisis has also resulted in thousands of job losses on New York's Wall Street and London's City, home to investment bankers that once spent lavishly to buy the latest set of snazzy wheels with their generous bonuses.
Follow Emirates 24|7 on Google News.
BMW, the world's largest premium carmaker, managed to meet its reduced outlook for a clear 2008 profit although revenue declined as the credit crisis plunged global car markets into a tailspin.