Boeing and Airbus eye record deliveries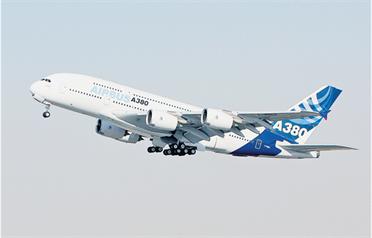 As Boeing and Airbus closed 2009 with solid orders, 2010 is likely to witness record deliveries by both aircraft manufacturers.

With Boeing ending last year with 142 net orders and Airbus with 280, the two major aircraft manufacturers closed 2009 with significant orders despite the aviation industry having been hit by the economic slowdown, said Capa (Centre for Asia Pacific Aviation) study.

It said that aircraft output has been reduced by both manufacturers, but only "marginally", with 2009 promising to be a record year for aircraft deliveries, approaching 500 from both manufacturers.

And 2010 deliveries are forecast to be somewhat slower, although production decisions on output levels are locked in well in advance, meaning that if production is to be slowed further, it will not be until at least the second half of 2010, said Capa.

However, US aircraft manufacturer, Boeing, has not been able to escape the spectre of cancellations, with unidentified customers cutting orders for three B737s and three B777s in the month to December 22.

The Capa report said that while Boeing ended 2009 with 259 gross orders, 118 cancellations have seen the net total plummet to 141 for the year.

And most heavily affected by cancellations has been Boeing's new B787, which finally flew for the first time last month.

The new aircraft saw 83 cancellations in 2009, and also affected was the B777 programme, which saw 10 cancellations over the year.

On the other hand, not only did Japan's All Nippon Airways order five B767s and five B777s but "unidentified customer(s)" also placed orders for 24 B737s and 11 B787s, according to the Capa report.

Doha-based Qatar Airways has firm orders for 30 787s and options for 30 more. And Oman Air planned to lease six 787s from Kuwaiti lessor, Alafco. In addition, Gulf Air has ordered eight of the 787 planes.

However, the Dubai-based aircraft leasing company Lcal has already cancelled its orders for the Dreamliner.

"Yes, we have disappointed some customers but this aircraft is a game changer," Jim Albaugh, President and CEO of Boeing Commercial Airplanes, told this paper.

Narrow-bodied aircraft accounted for the strongest ordering at Boeing last year, with 193 gross and 174 net orders for the year, or approximately three quarters of all orders.

And 19 B737s were struck off Boeing's order book by airlines over the year.

Archrival Airbus, meanwhile, was less heavily affected than Boeing by cancellations last year, according to the Capa report.

The European aircraft manufacturer had 225 net orders to the end of November 2009, but a strong December saw the manufacturer near its target of 300 (gross) orders for the year.

Lan Airlines ordered 30 A320s, Malaysia Airlines ordered 15 A330s and China Eastern Airlines ordered 16 A330s in December 2009.

Airbus beats target

European planemaker Airbus has beaten its target for aircraft deliveries in 2009 and plans to hand over at least as many planes to customers again this year, French newspaper La Tribune reported yesterday, citing unnamed sources.

It said that Airbus's deliveries totalled 498 last year compared with a target for around 490 aircraft.

Airbus, however, declined to comment on the figure according to a Reuters report, and said the company would reveal details of its aircraft deliveries on January 12.

"We do not comment on this speculation," the spokesperson said.

The La Tribune report further said that Airbus delivered just 10 of its A380 superjumbos last year compared with a target of 13.

Airbus had said in November that a couple of deliveries would likely shift into early 2010.

Emirates is the largest A380 customer with seven double-deckers already in the fleet and a further 51 on order. The airline is due to receive a total of 15 superjumbos by the end of this year, with the possibility of the delivery setback impacting "one or two" of the these was scheduled to be received during the course of 2010, President Tim Clark recently told Emirates Business.

Airbus said in early December that it had delivered 437 aircraft and won 225 gross orders in the first 11 months of the year.

And in December, Airbus unveiled orders for 16 A330s from China Eastern Airlines, 30 A320s from LAN, 15 A330s from Malaysian Airline System and 25 A350s from United Airlines. The aircraft manufacturer exceeded its target for about 300 orders last year.

Airbus delivered 10 A380s in 2009, one short of its target and fewer than last year.

The manufacturer shipped 12 of the superjumbos last year and initially planned to deliver 21 in 2009, then lowered the forecast four times.

Likely to kick off the year reporting a new record for deliveries, Airbus will see the total number of aircraft handed over to customers drop precipitously by the end of 2010, according to a Flightglobal report.

It said that with production rates locked in now, it suggest that Airbus will still hand over more than 400 narrowbodies and widebodies to customers this year.

The plane manufacturer, however, is currently reserved about the total number of A380s it will build in 2010. But ramping up production and bringing down build costs of the A380 remains a concern for Airbus.

Meanwhile, when asked about cancellations expected in 2010, John Leahy, Chief Operating Officer - Customers at Airbus, said: "There will always be some rescheduling and cancellations in any order book but we expect the minimum amount of cancellations."

Airbus beats Boeing

Airbus received more than five times the orders by value of US rival Boeing at the Dubai air show held in November 2009. Airbus received $5.3 billion in orders and letters of intent, against two orders worth $800 million from Boeing.

However, sales were down sharply from the biennial air show held in Dubai in 2007 wherein both aircraft manufacturers received a combined $75bn in orders and letters of intent.

Ethiopian Airlines placed an order for 12 Airbus A350-900s worth $2.9bn during the show, and Airbus also sold two A380 superjumbos.

Meanwhile, Boeing signed deals for 11 737-800 jetliners to Algeria's Government-run Air Algerie and Tassili Airlines.

Boeing financing

Boeing expects in 2010 about $68bn worth of airliners to be delivered by itself and Airbus, Bombardier and Embraer – a fall of around eight per cent on 2009's $62bn due to reduced production rates, according to a Flightglobal report.

It said that the US plane manufacturer predicts export credit agency funding, which ballooned to $21bn in 2009 from $12.5bn the year before, will reduce slightly to $20bn in 2010.

However, because of the drop in deliveries, proportionally this is an increase of a couple of percentage points to around one-third of the entire financing requirement.

Boeing Capital Corporation's Managing Director of capital markets, Kostya Zolotusky, was quoted by Flightglobal as saying: "We are gratified how the year has unfolded in line with our forecast and we expect a similar and still manageable aircraft financing environment in 2010."

He added that the one area of financing that will show significant decline in 2010 is from the lessors, falling by more than a quarter from $9bn to $6.5bn.
Keep up with the latest business news from the region with the Emirates Business 24|7 daily newsletter. To subscribe to the newsletter, please click here.
Follow Emirates 24|7 on Google News.