Boeing resumes production of its long-delayed 787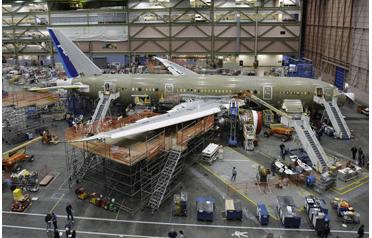 Workers on Thursday finished joining the fuselage and wings for the fifth 787, the hot-selling but long-delayed aircraft built for fuel efficiency with carbon composite parts. The plane, along with five other 787s, will be used for testing.
Jack Jones, vice president of 787 Final Assembly and Change Incorporation, says that this airplane signals that Boeing has returned to a "steady production rhythm."
Boeing machinists went on a two-month strike in September, paralysing the company's commercial aircraft factories. The strike ended with a new contract in early November.
In all, 30 787s are in production at this time. Boeing has orders for 895 of the planes from 58 airlines. 
Follow Emirates 24|7 on Google News.
Production of Boeing's new 787 jetliner has resumed.