Car sales in China surpass US to reach record levels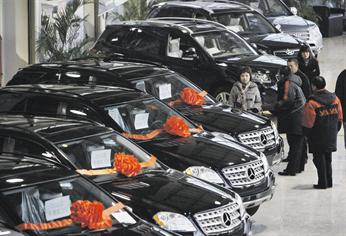 China's auto sales surged past the United States to reach record levels in 2009, industry figures showed yesterday, underscoring China's importance to the global auto industry as the world's biggest market.

The figures came as PSA Peugeot Citroen of France said markets were expected to show signs of recovery around the world in 2010, while Volkswagen AG said it aims to at least double its US sales in coming years.

After a year in which Chinese automakers made key acquisitions abroad, Beijing's renewed incentives to bolster demand will likely keep it as a bright spot for car makers battered by the financial crisis.

Vehicle sales in the country came to a record 13.6 million units in 2009, said the China Association of Automobile Manufacturers, well above a previous target of 10 million units and compared with annual sales of 10.4 million cars and light trucks in the United States, the lowest level in 27 years.

The Chinese tally, which also includes heavy vehicles, is still higher than that of the United States after deducting roughly 650,000 units of heavy trucks, said Orient Securities.

"Sales have been extremely hot in most parts of last year with little seasonal changes. Many people have to wait for weeks or even months to get their cars," said Qin Xuwen, an analyst at Orient.

The past year has seen Chinese automakers venturing on to the global stage for the first time in a major way, ready to snap up brands such as Volvo and Hummer which they previously admired from afar.

Peugeot said Europe would miss out on any global upturn, forecasting a one-digit percentage decline as state-funded scrappage schemes are removed or phased out.

"The second half should see some glimmers of improvement," it said in a statement, reporting a 2.2 per cent decline in 2009 sales of new vehicles and "complete knock down" (CKD) units to 3,188,000.

It was boosted by newer models such as the Citroen C3 Picasso, its position in light commercial vehicles and its low CO2-emission line-up.

PSA is in co-operation talks with Mitsubishi Motors of Japan.

Volkswagen, Europe's biggest car maker, said it aims to more than double its sales in the United States within the next three to four years, said the head of its US business.

"We will sell 400,000 to 450,000 vehicles in 2012-13," said Stefan Jacoby at an event in Washington, DC, ahead of the Detroit Auto Show. VW sold 213,000 cars in the US last year.

Meanwhile, Formula 1 supremo Bernie Ecclestone and investment company Genii Capital will soon have initial financing to show GM they can fund a purchase of Saab, according to daily Dagens Industri.

The paper said Ecclestone and Genii would have between 500 million Swedish crowns (Dh261.53m) and 1bn Swedish crowns in an account in a couple of days.

However, it was not clear whether the group had sent in a formal bid for the loss-making Swedish car firm.

"I have had contacts with GM, who have given us a deadline of the beginning of this week, which I interpret as Monday through Wednesday," Said Spokesman Lars Carlstrom.
Keep up with the latest business news from the region with the Emirates Business 24|7 daily newsletter. To subscribe to the newsletter, please click here.
Follow Emirates 24|7 on Google News.