China aircraft maker to recruit foreigners to compete globally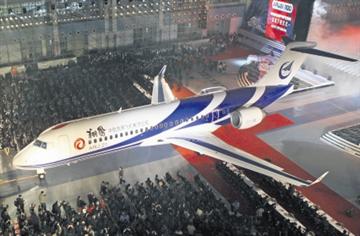 China's state aircraft maker Aviation Industry Corp of China (Avic) said it will go beyond its national borders to recruit executives who can help it to compete globally.

The global recruitment effort comes just months after the formation of the huge Avic in the merger of two state aircraft makers to focus on big projects, including a locally developed regional jet, to reduce China's reliance on Boeing and Airbus.

The decision is out of the norm for the secretive company, which builds the aviation hardware for China's military. "Our goal is to become globally competitive," Gao Jianshe, the group's Executive Vice-President, told reporters. "And to do that, we need executives with international experience."

Avic said on Thursday that combined 2008 sales for the two companies that merged was 166 billion yuan (Dh89bn or $24.3bn) in 2008, compared with $60.1bn for Boeing.

The new group consists of more than 200 enterprises and 21 listed companies.

It said it aims to recruit 13 vice presidents to assist in a broad range of activities including research, asset management, business development and marketing.

While most analysts think China is still decades away from challenging Boeing or Airbus – which Avic supplies with some key parts and components – it could make Canada's Bombardier and Brazil's Embraer nervous in the regional jet market.

China was one of the biggest and fastest growing markets for global aircraft makers before the financial crisis and its captive state-controlled airlines provide the clients for Avic.

Avic may have an easy time finding executives to hire. Boeing said at the end of January that it was targeting 10,000 jobs cuts this year, as it posted an unexpected fourth-quarter loss and said it expected more plane-order cancellations and uncertainty over the US defence budget.

However, the transition to key management positions in Chinese companies is difficult for executives with extensive experience working multinationals – even those who are ethnically Chinese or born in China.

"The majority of executives (coming from multinationals) leave within a year of their arrival," said Grace Cheng, the Managing Director of executive search firm Russell Reynolds Associates, based in Beijing.

Avic's move towards globalisation is not limited to staffing.

A state newspaper said last month that China welcomed investors to take a 30 per cent share in its newly incorporated jet engine company, in which Avic holds a 40 percent stake.

The company supplies engines to the regional jet ARJ21.

China has a total of 208 orders for the ARJ21, unveiled in late 2007, but the vast majority of them are from domestic carriers.
Follow Emirates 24|7 on Google News.