Collision delays delivery of cargo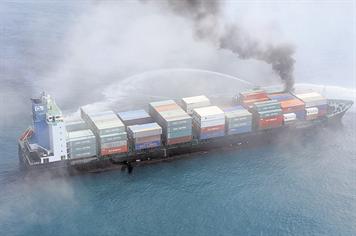 The delivery of cargo of both vessels that were involved in a collision off Jebel Ali port will be delayed for some days pending investigations into the accident and thorough assessment of the extent of the damage.

Officials representing both vessels told Emirates Business that investigations might take several days and that all cargo will remain on board during that period.

"All cargo will remain on board in order to have proper investigations. After port authorities have conducted their own investigations, we will make our own independent findings," said Amir Maghami, Managing Director, Simatech Shipping in Dubai, owners of the container ship, Sima Saba, which collided with an oil tanker.

The 20,000 dwt (deadweight tonnes) container ship with a capacity of 14,000 TEU (twenty foot equivalent units) was sailing off Jebel Ali port, headed for discharge at port Khalid in Sharjah. The oil tanker, MT Kashmir, a 45,000 dwt, was carrying liquid plastic raw material from Iran when the collision occurred.

Maghami said the two-year-old container ship had sustained damages on its hull but added that the full extent will only be verified after the investigation. The ship is being towed to the berth where experts will assess the impact of the collision.

"We hope that our clients will understand the delay. We want to ensure that the ship is capable of continuing with its journey," said Maghami adding that the ship was fully insured.

Morteza Masoumzadeh, Managing Director, Jumbo Line Shipping Agency, to whom the MT Kashmir oil tanker is chartered, said their client, Enoc, has been notified about the possible delay in the delivery of their consignment of 30,000 tonnes of condensate, valued at between $7m (Dh25.6m) to $8m. "Our clients have been notified and have expressed understanding," he said.

Alessandro Tricoli, Legal Consultant, Fichte and Company legal consultancy in Dubai, said the fire on MT Kashmir was tackled by the joint salvage venture of Mubarak and DP World.

He said after that the vessel and her cargo were safe, the ship and her cargo will be redelivered to their respective owners where surveyors will inspect the damage.

"A serious collision such as this one will involve many local interests such as lawyers, surveyors, repairers and other experts as well as insurers locally and internationally. These insurers will exchange financial guarantees pending final resolution of the case," said Tricoli.

The insurers of Kashmir and her cargo will provide an undertaking to pay the salvage award to Mubarak and DP World, he added.

Investigation under way

Dubai's port operator DP World said authorities have begun investigating into the cause of the accident.

DP World spokeswoman Sarah Lockie said the tanker and container ship are safely anchored as owners decide what steps to take next. She said oil spill booms have been set up around the damaged tanker as a precaution, but no spill has been reported.

The ships are being checked for damage.

Authorities are investigating the cause of the accident with the help of DP World.

Tanker operator Martinoli Consulting said the vessel was carrying 30,000 tonnes of condensate.
Follow Emirates 24|7 on Google News.