Container freight rates to make very slow comeback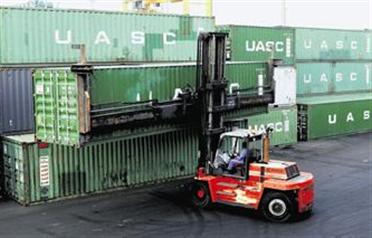 The projected slow recovery of global economies is expected to prolong the revival of container shipping freight rates, a major determinant for shipping liners' profitability. Ken Bloch Soerensen, President and CEO of United Arab Shipping Company (UASC) tells Emirates Business that the collapse in freight rates was sudden and too big for some players who might be edged out if a recovery takes longer to materialise.


The global container shipping industry has suffered since the second half of last year, how has UASC managed to survive under the prevailing conditions?

As a company with global operations, we are being hit by the same issues like any other container shipping lines. But relatively speaking, the Middle East is doing well compared to other regions. We have been suffering from falling freight rates on most of the major routes since the markets deteriorated in the second half of 2008. Although our official results for 2008 have not been released, we will see growing figures in revenues and volumes for 2008 compared to 2007, but less growth on profitability.

If you look at most businesses, the profitability in the second half of 2008 was much less compared to the first half. So we entered 2009 at low levels in terms of freight and income and volumes. I do not anticipate a big difference between the first half of 2009 and the second half of last year.

Looking at the situation now, have freight rates hit the bottom already?

Rates is a big word. Our book of business is so diversified with business out of the Middle East, some in Europe, Asia and Americas. But overall freight rates are under pressure. I can only say that at current levels, liners are already losing money, so it can not go lower than this, but if it does, some people might not be able to sustain business at all. We are not at risk at all, but would like to see changes.

How will you manage to survive then if freight rates continue to suffer this year?

In this industry, freight rates affect so many things, they dictate profitability. We have a high percentage of fixed costs. We have ships and we have a network. Utilisation is important for us, so as the supply has increased and demand has fallen, there is pressure on utilisation. The supply and demand balance has lost stability and this has a hit on utilisation and freight rates. Everyone in this industry knows that demand will not come back with a vengeance like it did in 2002. It will come back as a "U" shape; the question is how wide the U will be. What people have left is the ability to work on supply. We cannot ask people to buy more items that will actually drive business by boosting demand. We can take ships out of service or lay them up.

So are you taking out any ships this year?

Yes, some of our older ships will be idle for a while during 2009. Initially, we will lay up three to four ships of 2,000 TEUs to 3,000 TEUs capacity. On the major East-West trade and also other trades, lay ups have been made in order to bring balance back. The major impact is on the Asia-Europe trades, where about 25 per cent of capacity today has been taken out or will be taken out to bring back the balance between supply and demand. If you cannot increase demand, you take out supply and then bring it back. That brings up utilisation on each of your assets and also raises freight rates. We believe that in the second half of the year, we will have positive developments on freight rates. In the post Chinese new year, we have see some signs of volumes coming up, we see some recoveries in demand that simply fell off the cliff in October and November last year.

Besides laying up ships, are you considering other cost cutting measures such as job cuts?

We will not be laying off people as a result of the crisis. We are still hiring people and we have vacancies in our plans for this and next year as we expand our networks. As part of cutting down costs, we have made some changes in our networks by shifting more capacity into regions that still have demand, such as the Middle East. This is helping us to reduce our exposure in markets in Europe and Asia that have been severely hit. Although our plan is to take all pending deliveries on schedule, we are discussing with our yards to delay delivery of some of the vessels.

Which region out of your network continues to outperform the others in terms of volumes and returns?

The Middle East is still growing but a much slower pace than it did in the past. Our overall trading forecasts are driven by the development in GDP. There have been almost weekly adjustments in GDP projections for this region and different people are giving different figures. We have seen some signs of slowdown due to delayed or cancelled projects and projected shrink in population. However, there is are still a lot of infrastructural projects going on and new ones coming. There is still a reasonably positive outlook for the Middle East compared to other regions, but it's not as bullish as it was this time last year. This crisis came faster and bigger than anyone had anticipated including us. We had never forecasted such a major shift in demand.

You have a number of container ships scheduled for delivery this year, are you making any reviews on charter rates given the current situation?

Any significant change in market conditions forces you to review all your contracts, not only charter contracts but also contracts with your suppliers, ports and all your costs. Until very recently, the charter market was good, but now as the tide has changed, the market has been affected.

Many ships have been redelivered and are lying idle and this puts pressure on charter rates. We entered into this contract in 2007 for delivery in 2009 and at that time, the rates on the market were higher than they are now, so it is fair that we go out and review what can be done to reduce our cost. It is among a long list of other contracts we plan to review. With high pressure on ports and volumes falling in most trades, terminals are also opening their books again. Engineering services costs have gone down and so have fuel costs, so we can make reviews with suppliers of inland services trucking.

All prices are under pressure, so we are seeking renegotiations.

Prices for newbuilds have gone down considerably in the past few months, does this trend of events make you regret any decisions you made in the past?

If you had known six months ago what you know today, you would have been able to delay and probably negotiate from a different level. The ships we take on charter this year were contracted two years ago, so none of us could have looked with certainty into the future. At the end of the day, we need the ships to grow the company to position ourselves firmly. It would have been better to negotiate now than six months ago. Only a few shipyards can build the size of the ships we are getting since they range between 13,000 to 14,000 TEUs. They have not been traded before and there are only three yards in the world that build them and will deliver them. We don't know what the real new values are but am sure if I went to the yards I would get a different price but not so different because they are still full. We have to wait another six to twelve months to see a significant movement in prices.
Follow Emirates 24|7 on Google News.