Container shipping rates will continue to be under pressure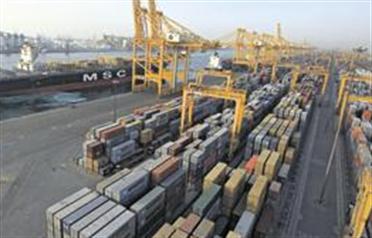 Container shipping rates are likely to remain subdued in the near-term, particularly in the once-lucrative Asia-Europe route, shipping industry analysts and officials say.

"Only 12 months ago they (carriers) were making record profits from Asia-Europe trade, but from this summer, freight rates have plummeted and still appear to be in a decline," said an analyst report by the UK-based maritime consultancy company, Drewry.

The report said the situation in the container shipping industry will further deteriorate in 2009 as shipping fleets are expected to grow while "demand patterns and outlook are poor". "It is supply that will be the largest headache for the industry in 2009," the report said.

Sunny Ho, Executive Director of the Hong Kong Shippers Council agreed with this assessment, adding in the next few months at least, demand for containers from China, one of the world's biggest industrial powers, will remain dormant.

"Traditionally, industrial activity and demand for containers slow down in the weeks following the Chinese New Year. This year, the recovery in demand is expected to take much longer than in the last few years," he said.

Europe-Asia trade will suffer more than US-Asia trade for two reasons, he said.

One, expansion of fleet in the Europe-Asia route was much faster as the route was considered very lucrative as late as in 2008. Two, Europe-Asia container rates are negotiated for shorter terms compared with transpacific rates, which are usually negotiated on 12-month fixed-term basis.

However, recent media reports that Asia-Europe container rates have fallen to zero could be misleading.

According to Ho, Asia-Europe ocean freight rate, including all charges, is $300-$400 (Dh1,102 to 1,469) per 20-foot equivalent units, or TEU, down 43 per cent since November.

If one were to take out components such as terminal handling fees, bunker rates, currency adjustment costs and in some cases, piracy protection charges, "pure ocean freight rates" could be zero or even negative, he added.

Customers on their part are now asking for all-inclusive rates, instead of off-the-shelf freight rates to which various other charges are added, he said.

"It's definitely a buyers' market in container shipping," Ho said.

The battered dry bulk market, meanwhile, presents a picture of caution and cautious optimism. Over the last month, there has been a mild recovery in the Baltic Dry Index which had fallen nearly 95 per cent from its peak last year.

On December 5, the BDI hit a low of 663 from a record high of 11,793 points on May 20, 2008. The index has since recovered, closing at 881 points Friday.

According to a report by Greek ship broking firm Weberseas, there are expectations of "better days" for the dry bulk market after the stability in the last couple of weeks.

But the report added a clear turnaround in the dry bulk sector will require an acceleration of trends already seen in the industry.

Those include a larger number of bulk vessels being sent for scrapping, increasing cancellations of new vessel deliveries and easier credit availability for trade.
Follow Emirates 24|7 on Google News.